Role of Ti3AlC2 MAX phase on characteristics of in-situ synthesized TiAl intermetallics. Part III: microstructure
Maryam Akhlaghi

Semiconductors Department, Materials and Energy Research Center (MERC), Karaj, Iran

Esmaeil Salahi

Ceramics Department, Materials and Energy Research Center (MERC), Karaj, Iran

Seyed Ali Tayebifard

Semiconductors Department, Materials and Energy Research Center (MERC), Karaj, Iran

Gert Schmidt

Faculty of Mechanical, Process and Energy Engineering, TU Bergakademie, Freiberg, Germany
Abstract
In this paper, the 3rd part of a series of publications on the sinterability and characteristics of TiAl–Ti3AlC2 composites, the microstructure development during the synthesis and sintering processes was studied by scanning electron microscopy (SEM). Chemical evaluation of various phases in the developed microstructures was performed using energy-dispersive X-ray spectroscopy (EDS) in different ways such as point, line scan and two-dimensional elemental map analyses. For this purpose, five samples were fabricated with different percentages of Ti3AlC2 MAX phase additive (10, 15, 20, 25 and 30 wt%). Ball-milling and spark plasma sintering (SPS: 900 °C/7 min/40 MPa) of as-purchased Al and Ti powders with already-synthesized Ti3AlC2 additive were selected as composite making methodology. SEM/EDS analyses verified the in-situ manufacturing of TiAl/Ti3Al intermetallics as the matrix during the SPS process and the presence of Ti3AlC2 as the ex-situ added secondary phase. Moreover, the in-situ synthesis of Ti2AlC, another member of MAX phases in Ti-Al-C system, was also detected in titanium aluminide grain boundaries and attributed to a chemical reaction between TiC (an impurity in the initial Ti3AlC2 additive) and TiAl components.
Downloads
Download data is not yet available.
Keywords:
Microstructure, SPS, In-situ synthesis, TiAl–Ti3AlC2 composites, SEM/EDS analysis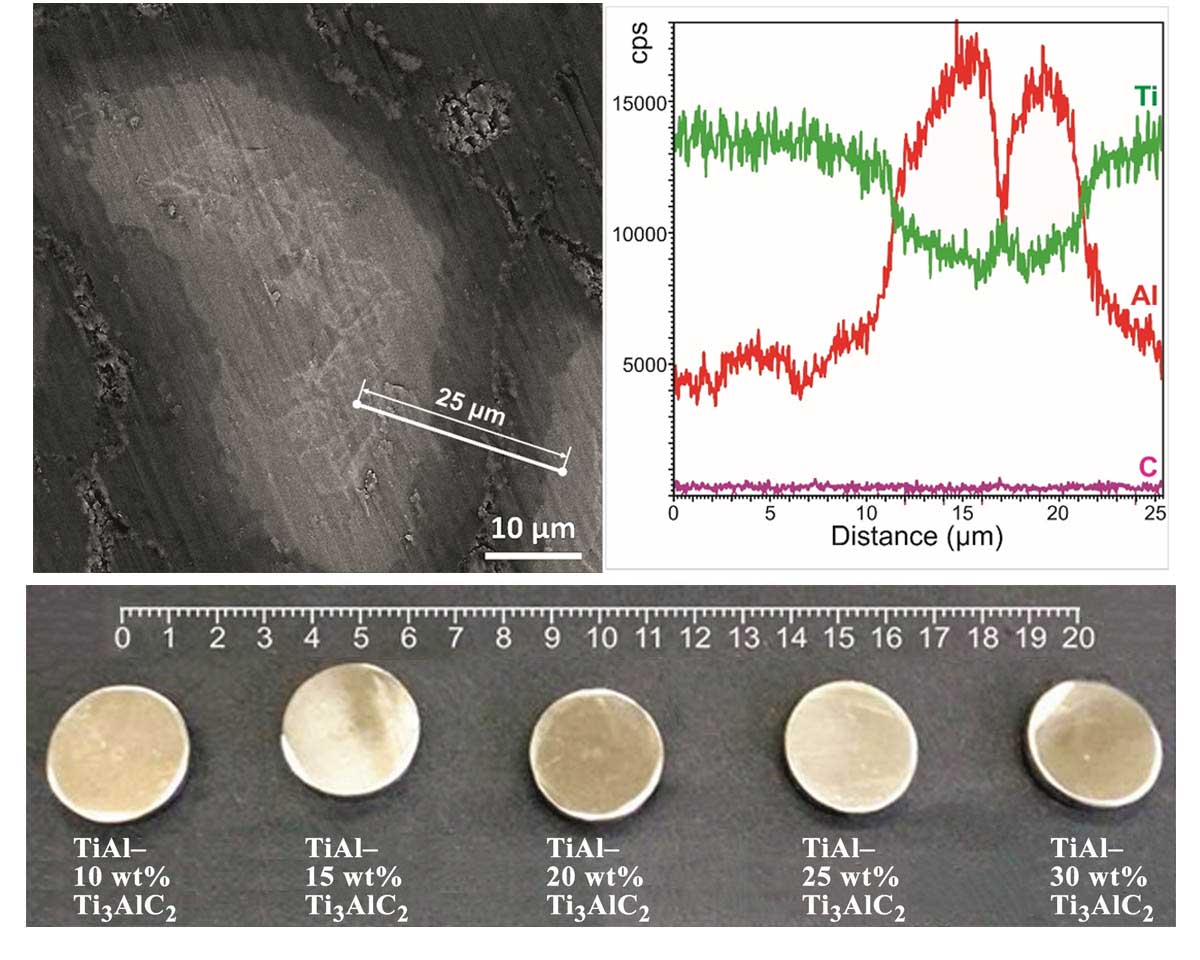 Submitted
2021-12-26
Published
2022-03-20
How to Cite
Akhlaghi, M., Salahi, E., Tayebifard, S. A., & Schmidt, G. (2022). Role of Ti3AlC2 MAX phase on characteristics of in-situ synthesized TiAl intermetallics. Part III: microstructure. Synthesis and Sintering, 2(1), 20-25. https://doi.org/10.53063/synsint.2022.2182
Copyright (c) 2022 Maryam Akhlaghi, Esmaeil Salahi, Seyed Ali Tayebifard, Gert Schmidt
This work is licensed under a Creative Commons Attribution 4.0 International License.
Copyright
Authors are the copyright holders of their published papers in Synthesis and Sintering, which are simultaneously licensed under a Creative Commons Attribution 4.0 International License. The full details of the license are available at https://creativecommons.org/licenses/by/4.0/.
All papers published open access will be immediately and permanently free for everyone to read, download, copy, distribute, print, search, link to the full-text of papers, crawl them for indexing, pass them as data to software, or use them for any other lawful purpose without any registration obstacles or subscription fees.