Role of Ti3AlC2 MAX phase on characteristics of in-situ synthesized TiAl intermetallics. Part IV: mechanical properties
Maryam Akhlaghi

Semiconductors Department, Materials and Energy Research Center (MERC), Karaj, Iran

Esmaeil Salahi

Ceramics Department, Materials and Energy Research Center (MERC), Karaj, Iran

Seyed Ali Tayebifard

Semiconductors Department, Materials and Energy Research Center (MERC), Karaj, Iran

Gert Schmidt

Faculty of Mechanical, Process and Energy Engineering, TU Bergakademie, Freiberg, Germany
Abstract
In this study, the 4th part of a series of publications on the sintering and characterization of TiAl-Ti3AlC2 composite materials, the mechanical properties were measured and discussed. For this purpose, different contents of synthesized Ti3AlC2 reinforcement (10, 15, 20, 25, and 30 wt%) were added to metallic Ti and Al powders, then ball-milled and manufactured by spark plasma sintering (SPS) for 420 s at 900 ºC under 40 MPa. Flexural strength, fracture toughness and Vickers hardness were measured by 3-point technique, SENB method, and indentation technique, respectively. Increasing the Ti3AlC2 content resulted in improvement of the mechanical properties, so that TiAl-25 wt% Ti3AlC2 composite showed the best flexural strength and Vickers hardness (270 MPa and 4.11 GPa, respectively). Increasing amount of Ti3AlC additive had no significant effect on fracture toughness. Densification improvement, in-situ formation of Ti2AlC, and limitation of grain growth were recognized as the reasons of mechanical properties enhancement. In contrast, further addition of Ti3AlC2 (30 wt%) decreased the mechanical properties due to the reduction of density and formation of more Ti2AlC agglomerates in grain boundaries.
Downloads
Download data is not yet available.
Keywords:
SPS, TiAl-Ti3AlC2, Flexural strength, Hardness, Fracture toughness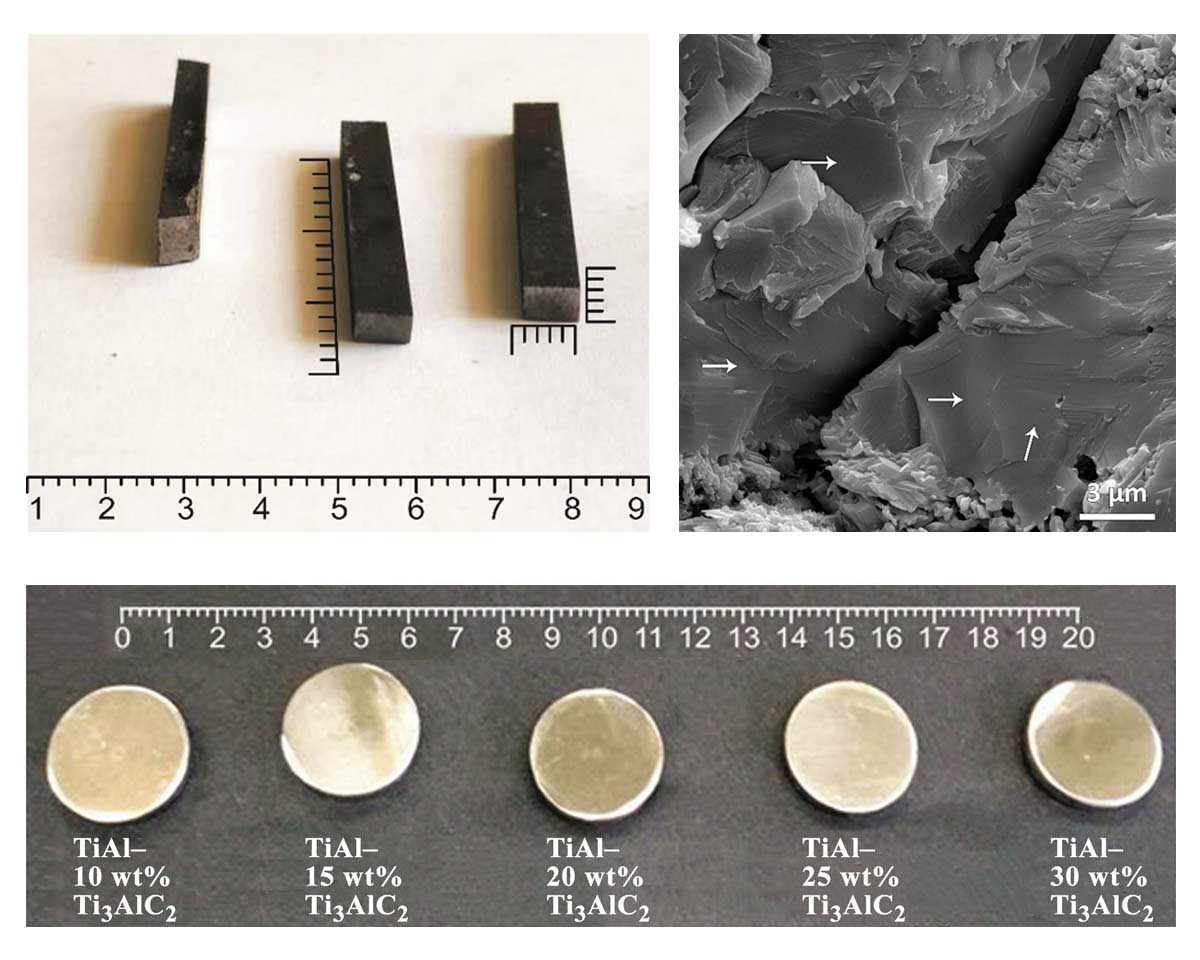 Submitted
2022-01-24
Published
2022-06-29
How to Cite
Akhlaghi, M., Salahi, E., Tayebifard, S. A., & Schmidt, G. (2022). Role of Ti3AlC2 MAX phase on characteristics of in-situ synthesized TiAl intermetallics. Part IV: mechanical properties. Synthesis and Sintering, 2(2), 99-104. https://doi.org/10.53063/synsint.2022.22103
Copyright (c) 2022 Maryam Akhlaghi, Esmaeil Salahi, Seyed Ali Tayebifard, Gert Schmidt
This work is licensed under a Creative Commons Attribution 4.0 International License.
Copyright
Authors are the copyright holders of their published papers in Synthesis and Sintering, which are simultaneously licensed under a Creative Commons Attribution 4.0 International License. The full details of the license are available at https://creativecommons.org/licenses/by/4.0/.
All papers published open access will be immediately and permanently free for everyone to read, download, copy, distribute, print, search, link to the full-text of papers, crawl them for indexing, pass them as data to software, or use them for any other lawful purpose without any registration obstacles or subscription fees.