Influences of mechanical activation and tartaric acid addition on the efficiency of B4C synthesis
Seyed Faridaddin Feiz

Ceramics Department, Materials and Energy Research Center (MERC), Karaj, Iran

Leila Nikzad

Ceramics Department, Materials and Energy Research Center (MERC), Karaj, Iran

Hudsa Majidian

Ceramics Department, Materials and Energy Research Center (MERC), Karaj, Iran

Esmaeil Salahi

Ceramics Department, Materials and Energy Research Center (MERC), Karaj, Iran
Abstract
In this paper, mechanical activation and tartaric acid addition were employed to reduce the residual carbon and intensify the efficiency of B4C synthesis using glucose and boric acid as starting materials. To investigate the role of mechanical activation on synthesis performance, one sample was subjected to high-energy ball milling before pyrolysis and the other after pyrolysis. To study the role of additives, in the precursor production stage, on synthesis efficiency and residual carbon reduction, different amounts of tartaric acid (0, 5, 10, 25, and 50 wt%) were tested. FT-IR and XRD analyses were used to characterize the bonds created in the precursors and the phases formed during the pyrolysis and synthesis steps, respectively. The results confirmed that mechanical activation before synthesis can improve the synthesis efficiency, but ball milling before pyrolysis did not significantly affect the final synthesis product. The addition of tartaric acid enhanced the formation of B–C bonds; hence, it increased the efficiency of B4C synthesis. The optimum additive amount was 25 wt% and higher amounts weakened the synthesis performance.
Downloads
Download data is not yet available.
Keywords:
B4C, Synthesis efficiency, Mechanical activation, Tartaric acid addition, Residual carbon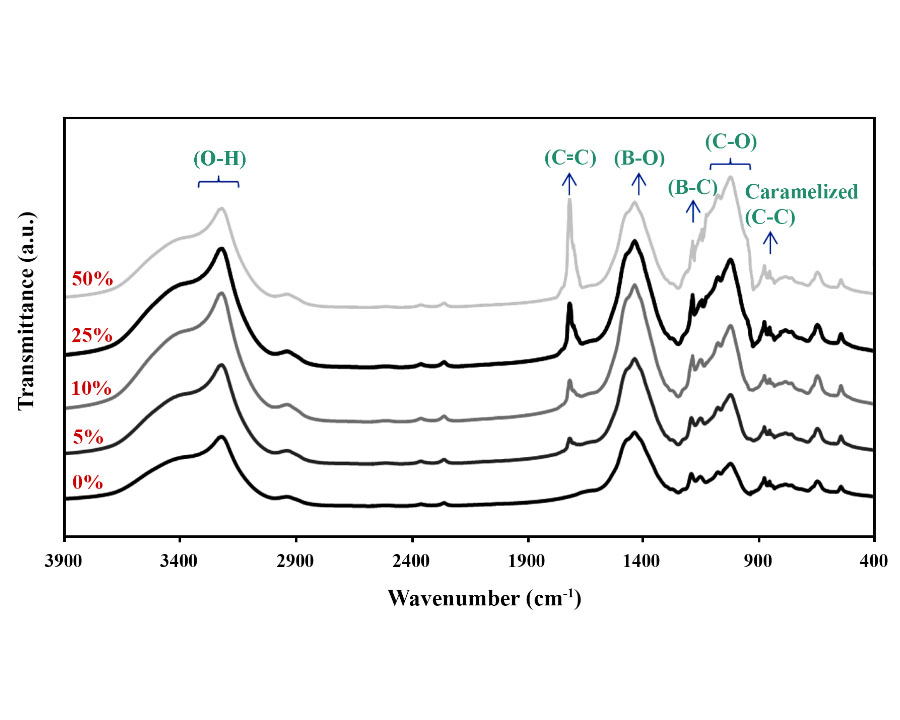 Submitted
2023-02-14
Published
2023-03-29
How to Cite
Feiz, S. F., Nikzad, L., Majidian, H., & Salahi, E. (2023). Influences of mechanical activation and tartaric acid addition on the efficiency of B4C synthesis. Synthesis and Sintering, 3(1), 54-59. https://doi.org/10.53063/synsint.2023.31140
Copyright (c) 2023 Seyed Faridaddin Feiz, Leila Nikzad, Hudsa Majidian, Esmaeil Salahi
This work is licensed under a Creative Commons Attribution 4.0 International License.
Copyright
Authors are the copyright holders of their published papers in Synthesis and Sintering, which are simultaneously licensed under a Creative Commons Attribution 4.0 International License. The full details of the license are available at https://creativecommons.org/licenses/by/4.0/.
All papers published open access will be immediately and permanently free for everyone to read, download, copy, distribute, print, search, link to the full-text of papers, crawl them for indexing, pass them as data to software, or use them for any other lawful purpose without any registration obstacles or subscription fees.