Synthesizability improvement of B4C ceramics by optimizing the process temperature and atmosphere
Seyed Faridaddin Feiz

Ceramics Department, Materials and Energy Research Center (MERC), Karaj, Iran

Leila Nikzad

Ceramics Department, Materials and Energy Research Center (MERC), Karaj, Iran

Hudsa Majidian

Ceramics Department, Materials and Energy Research Center (MERC), Karaj, Iran

Esmaeil Salahi

Ceramics Department, Materials and Energy Research Center (MERC), Karaj, Iran
Abstract
In this research, the effects of synthesis temperature, holding time, and furnace atmosphere on the synthesizability of B4C ceramics using glucose and boric acid as the starting materials were scrutinized. Three temperatures of 1300, 1400, and 1500 °C were selected as synthesis temperatures. The synthesis process was carried out in a tubular furnace for 4 h in Ar atmosphere. To scrutinize the interactive effect of synthesis temperature and holding time, three samples were synthesized at 1500, 1400, and 1300 °C for 4, 8, and 12 h, respectively. Moreover, two types of controlled atmospheres, traditional Ar and an innovative CO/CO2 setup, were considered to optimize the synthesis process. X-ray diffraction (XRD) patterns were employed to determine the optimum synthesis temperature and atmosphere based on the detection of B4C peaks as the desired product and undesirable hydrocarbon and carbon byproducts. The results showed that B4C synthesized at 1500 °C for 4 h in Ar atmosphere contained the least byproduct impurities, so this temperature was chosen as the optimal choice. However, the sample fabricated at 1400 °C for 8 h is a good choice in cases where lower manufacturing temperatures are desired. The efficiency of the innovative setup was similar to the traditional one; therefore, considering the economic aspects, the CO/CO2 atmosphere was chosen as an acceptable option for B4C synthesis.
Downloads
Download data is not yet available.
Keywords:
Boron carbide, Synthesis, Optimization, Atmosphere, XRD analysis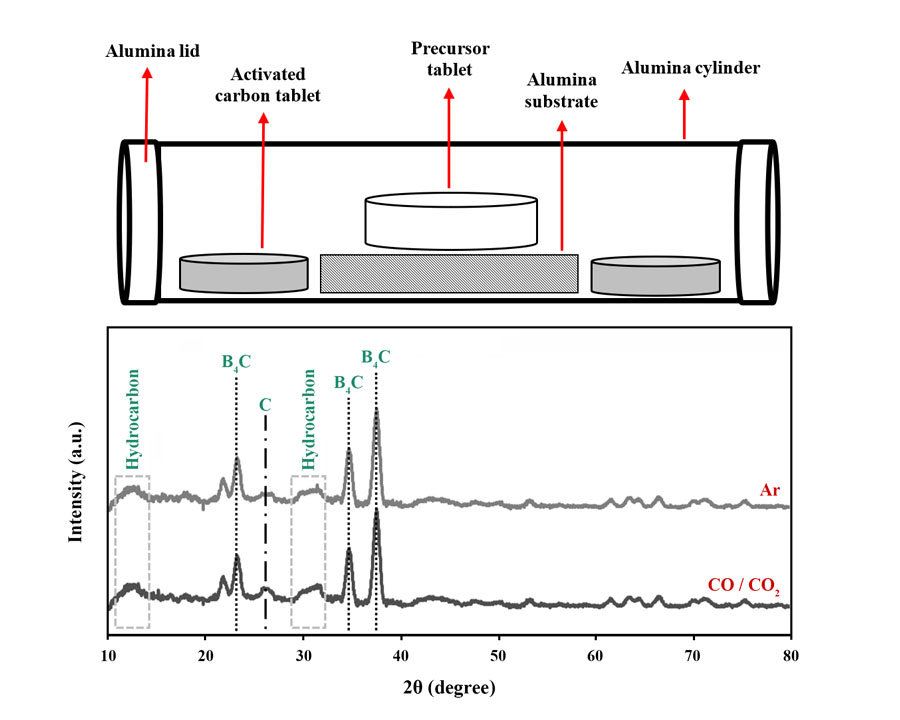 Submitted
2022-11-25
Published
2022-12-30
How to Cite
Feiz, S. F., Nikzad, L., Majidian, H., & Salahi, E. (2022). Synthesizability improvement of B4C ceramics by optimizing the process temperature and atmosphere . Synthesis and Sintering, 2(4), 181-185. https://doi.org/10.53063/synsint.2022.24131
Copyright (c) 2022 Seyed Faridaddin Feiz, Leila Nikzad, Hudsa Majidian, Esmaeil Salahi
This work is licensed under a Creative Commons Attribution 4.0 International License.
Copyright
Authors are the copyright holders of their published papers in Synthesis and Sintering, which are simultaneously licensed under a Creative Commons Attribution 4.0 International License. The full details of the license are available at https://creativecommons.org/licenses/by/4.0/.
All papers published open access will be immediately and permanently free for everyone to read, download, copy, distribute, print, search, link to the full-text of papers, crawl them for indexing, pass them as data to software, or use them for any other lawful purpose without any registration obstacles or subscription fees.