New strategies in the preparation of binary g-C3N4/MXene composites for visible-light-driven photocatalytic applications
Asieh Akhoondi

Department of Chemical Engineering, Arak Branch, Islamic Azad University, Arak, Iran

Mehrdad Mirzaei

Nanomaterials Group, Department of Materials Engineering, Tarbiat Modares University, P.O. Box 14115-143, Tehran, Iran

Mostafa Y. Nassar

Chemistry Department, Faculty of Science, Benha University, Benha, 13518, Egypt

Zahra Sabaghian

Department of Chemical Engineering, Faculty of Engineering, Ferdowsi University of Mashhad, Mashhad, Iran

Farshid Hatami

Chemical and Material Engineering Department, Esfarayen University of Technology, Esfarayen, Iran

Mohammad Yusuf

Department of Petroleum Engineering, Universiti Teknologi PETRONAS, Bandar Seri Iskandar, Perak, 32610, Malaysia
Abstract
In recent years, g-C3N4@MXene photocatalysts have received much attention due to their special composition and excellent properties. MXenes consisting of transition metal carbides, nitrides, and carbonitrides derived from the MAX phase are used as cocatalysts or g-C3N4 (GCN) supporting composites in a variety of photocatalytic processes that accelerate the separation of charge carriers with their heterojunction structure. In addition to the high ability of g-C3N4@MXene nanocomposite to absorb light, it has high photocorrosion resistance in the processes of hydrogen evolution, wastewater treatment, nitrogen fixation, NO treatment, and oxidation and reduction photoreactions. In this review, the latest developments and new technologies for the manufacture and application of noble metal-free g-C3N4@MXene nanocomposite have been discussed and the future perspective has been drawn to deal with challenges related to energy and the environment.
Downloads
Download data is not yet available.
Keywords:
Photocatalyst, g-C3N4, MXene, Synthesis, Nanocomposite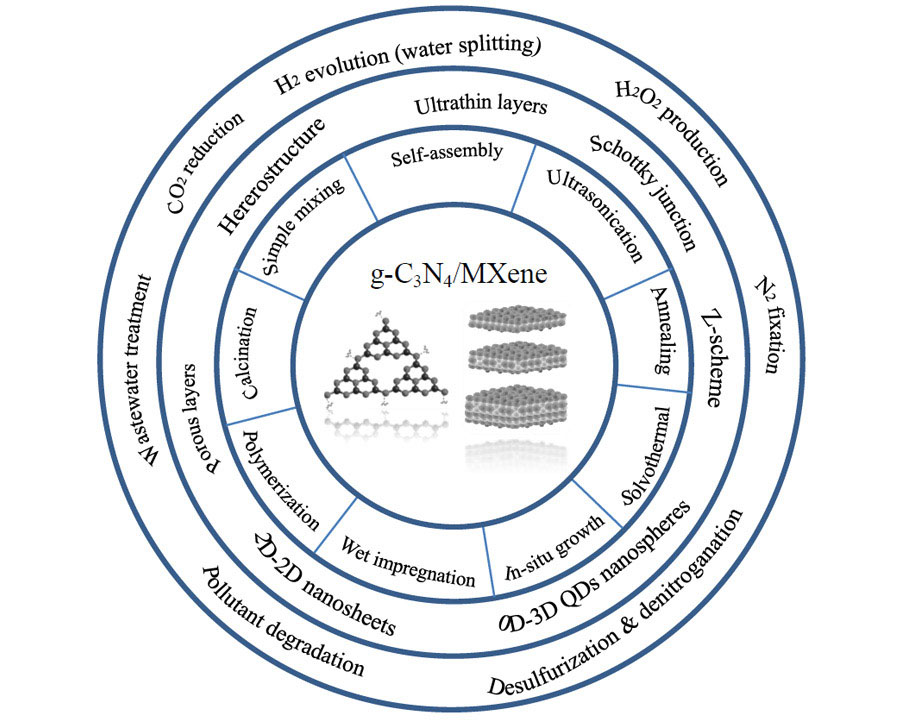 Submitted
2022-08-29
Published
2022-12-25
How to Cite
Akhoondi, A., Mirzaei, M., Nassar, M. Y., Sabaghian, Z., Hatami, F., & Yusuf, M. (2022). New strategies in the preparation of binary g-C3N4/MXene composites for visible-light-driven photocatalytic applications. Synthesis and Sintering, 2(4), 151-169. https://doi.org/10.53063/synsint.2022.24121
Copyright (c) 2022 Asieh Akhoondi, Mehrdad Mirzaei, Mostafa Y. Nassar, Zahra Sabaghian, Farshid Hatami, Mohammad Yusuf
This work is licensed under a Creative Commons Attribution 4.0 International License.
Copyright
Authors are the copyright holders of their published papers in Synthesis and Sintering, which are simultaneously licensed under a Creative Commons Attribution 4.0 International License. The full details of the license are available at https://creativecommons.org/licenses/by/4.0/.
All papers published open access will be immediately and permanently free for everyone to read, download, copy, distribute, print, search, link to the full-text of papers, crawl them for indexing, pass them as data to software, or use them for any other lawful purpose without any registration obstacles or subscription fees.