Performance of glucose, sucrose and cellulose as carbonaceous precursors for the synthesis of B4C powders
Seyed Faridaddin Feiz

Ceramics Department, Materials and Energy Research Center (MERC), Karaj, Iran

Leila Nikzad

Ceramics Department, Materials and Energy Research Center (MERC), Karaj, Iran

Hudsa Majidian

Ceramics Department, Materials and Energy Research Center (MERC), Karaj, Iran

Esmaeil Salahi

Ceramics Department, Materials and Energy Research Center (MERC), Karaj, Iran
Abstract
Boron carbide is the third hardest material in the world after diamond and cubic boron nitride, which is one of the most strategic engineering ceramics in various industrial applications. The aim of this research is to synthesize B4C by reacting boric acid as boron source with polymers from the saccharide family as carbon sources, and to determine the best saccharide as precursor. For this purpose, glucose (monosaccharide), sucrose (disaccharide), and cellulose (polysaccharide) were used and examined. The samples were prepared by appropriate mixing of the starting materials, pyrolysis at 700 °C, and synthesis at 1500 °C. The results of Fourier transform infrared (FT-IR) spectroscopy and X-ray diffractometry (XRD) showed that among the studied saccharide polymers, glucose is the best carbon source candidate for the synthesis of B4C. To describe precisely, the specimen prepared with glucose and boric acid had more boron carbide and less hydrocarbon.
Downloads
Download data is not yet available.
Keywords:
Synthesis, Boron carbide, Saccharide, Boric acid, Glucose, Precursor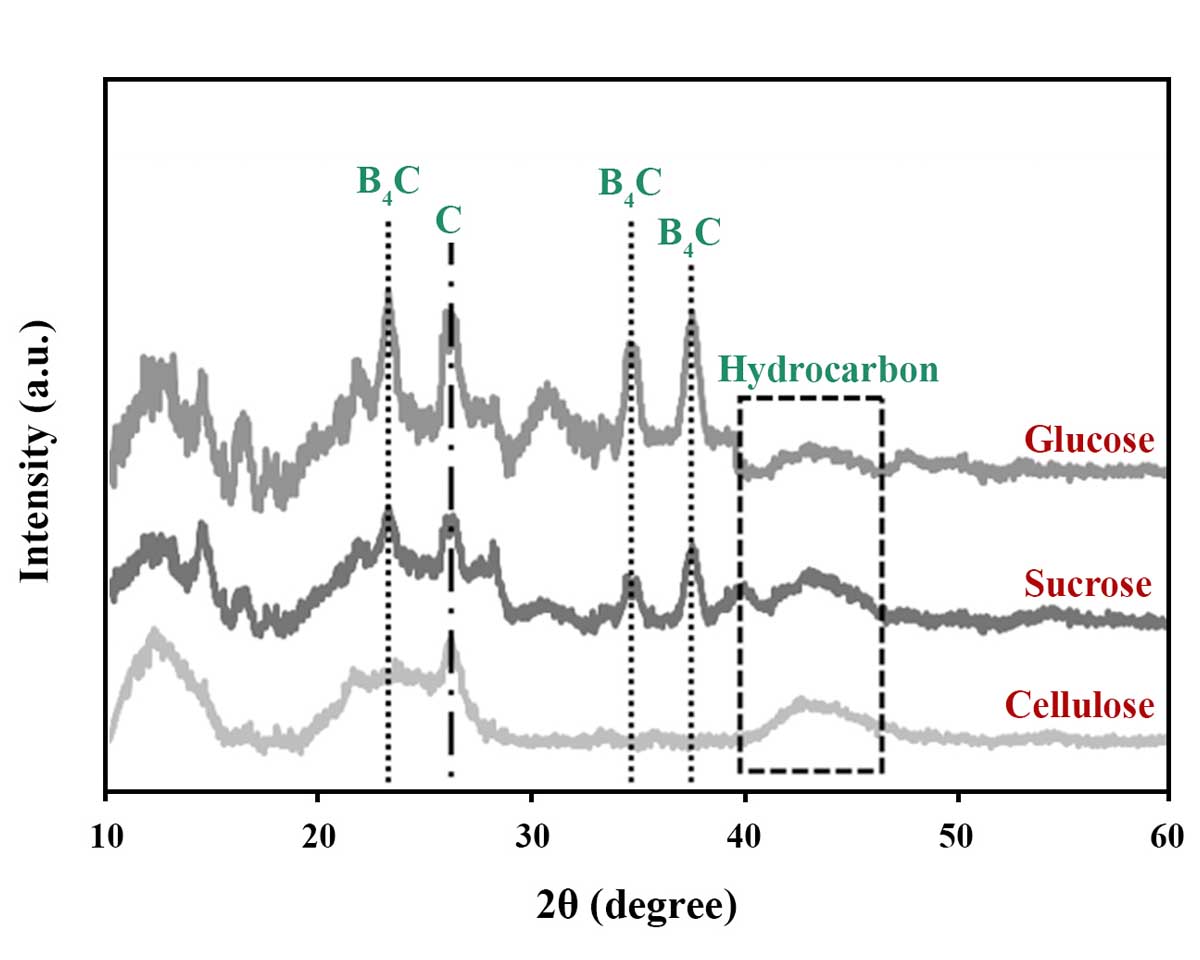 Submitted
2022-03-02
Published
2022-03-25
How to Cite
Feiz, S. F., Nikzad, L., Majidian, H., & Salahi, E. (2022). Performance of glucose, sucrose and cellulose as carbonaceous precursors for the synthesis of B4C powders. Synthesis and Sintering, 2(1), 26-30. https://doi.org/10.53063/synsint.2022.21108
Copyright (c) 2022 Seyed Faridaddin Feiz, Leila Nikzad, Hudsa Majidian, Esmaeil Salahi
This work is licensed under a Creative Commons Attribution 4.0 International License.
Copyright
Authors are the copyright holders of their published papers in Synthesis and Sintering, which are simultaneously licensed under a Creative Commons Attribution 4.0 International License. The full details of the license are available at https://creativecommons.org/licenses/by/4.0/.
All papers published open access will be immediately and permanently free for everyone to read, download, copy, distribute, print, search, link to the full-text of papers, crawl them for indexing, pass them as data to software, or use them for any other lawful purpose without any registration obstacles or subscription fees.