In-situ synthesized phases during the spark plasma sintering of g-C3N4 added TiB2 ceramics: A thermodynamic approach
Milad Sakkaki

Department of Mechanical Engineering, University of Mohaghegh Ardabili, P.O. Box 179, Ardabil, Iran

Seyed Mohammad Arab

Department of Mechanical Engineering, University of Mohaghegh Ardabili, P.O. Box 179, Ardabil, Iran
Abstract
In this study, in situ composite was manufactured by using TiB2 matrix and C3N4 additive through spark plasma sintering. The optimum SPS parameters were considered and the process was carried out at a temperature of 1900°C for 7 minutes by applying an external pressure of 40 MPa. The thermodynamics of possible reactions during the process were investigated. The products of the chemical reactions were identified. The complementary XRD investigations, the EDAX analysis and SEM microscopy were used to confirm the in-situ formation of new phases. The results showed that the used carbon nitride was decomposed into its constituents, i.e. carbon and nitrogen, and the BN phase has been formed as a result of chemical reactions.
Downloads
Download data is not yet available.
Keywords:
UHTC, Spark plasma sintering, Graphitic carbon nitride, Composite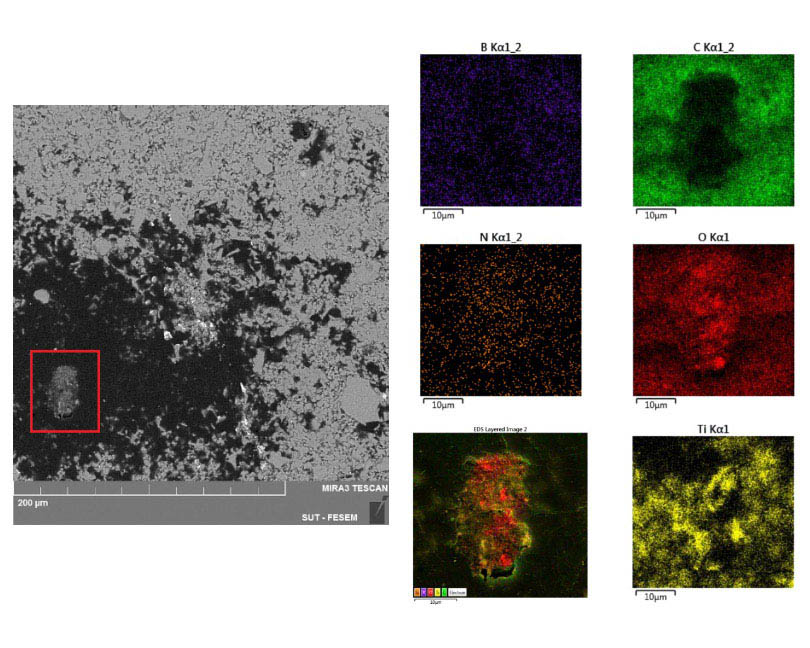 Submitted
2023-05-28
Published
2023-06-27
How to Cite
Sakkaki, M., & Arab, S. M. (2023). In-situ synthesized phases during the spark plasma sintering of g-C3N4 added TiB2 ceramics: A thermodynamic approach. Synthesis and Sintering, 3(2), 73-78. https://doi.org/10.53063/synsint.2023.32151
Copyright (c) 2023 Milad Sakkaki, Seyed Mohammad Arab
This work is licensed under a Creative Commons Attribution 4.0 International License.
Copyright
Authors are the copyright holders of their published papers in Synthesis and Sintering, which are simultaneously licensed under a Creative Commons Attribution 4.0 International License. The full details of the license are available at https://creativecommons.org/licenses/by/4.0/.
All papers published open access will be immediately and permanently free for everyone to read, download, copy, distribute, print, search, link to the full-text of papers, crawl them for indexing, pass them as data to software, or use them for any other lawful purpose without any registration obstacles or subscription fees.