Influence of molybdenum content on the microstructure of spark plasma sintered titanium alloys
M. Saravana Kumar

Department of Mechanical Engineering, Mount Zion College of Engineering and Technology, Pudukkottai, Tamil Nadu, India

S. Rashia Begum

Department of Mechanical Engineering, College of Engineering, Anna University, Chennai, Tamil Nadu, India

M. Vasumathi

Department of Mechanical Engineering, College of Engineering, Anna University, Chennai, Tamil Nadu, India

Chinh Chien Nguyen

Laboratory of Energy and Environmental Science, Institute of Research and Development, Duy Tan University, Da Nang 550000, Vietnam

Quyet Van Le

Laboratory of Energy and Environmental Science, Institute of Research and Development, Duy Tan University, Da Nang 550000, Vietnam
Abstract
Five titanium-based alloys containing 4, 8, 12, 16, and 20 wt% molybdenum additive were fabricated by spark plasma sintering process at 1200 ˚C. The samples were scrutinized in terms of relative density, phase evolution, and microstructural development. The relative density reached 99.9% with the molybdenum addition up to 16 wt% but slightly dropped in the sample with 20 wt% additive. In the specimens with 4 wt% Mo, molybdenum solved completely in the matrix and three different phase morphologies were observed, namely continuous α-Ti, laminar α-Ti, and very thin laminar β-Ti. With increasing Mo content to 20 wt%, widespread single β-Ti appeared alongside remained Mo and α-Ti. Ductile fracture mode was dominant in the samples with low Mo contents whilst it changed to brittle in the specimens with higher content of molybdenum.
Downloads
Download data is not yet available.
Keywords:
Titanium, Molybdenum, Spark plasma sintering, Microstructure, Densification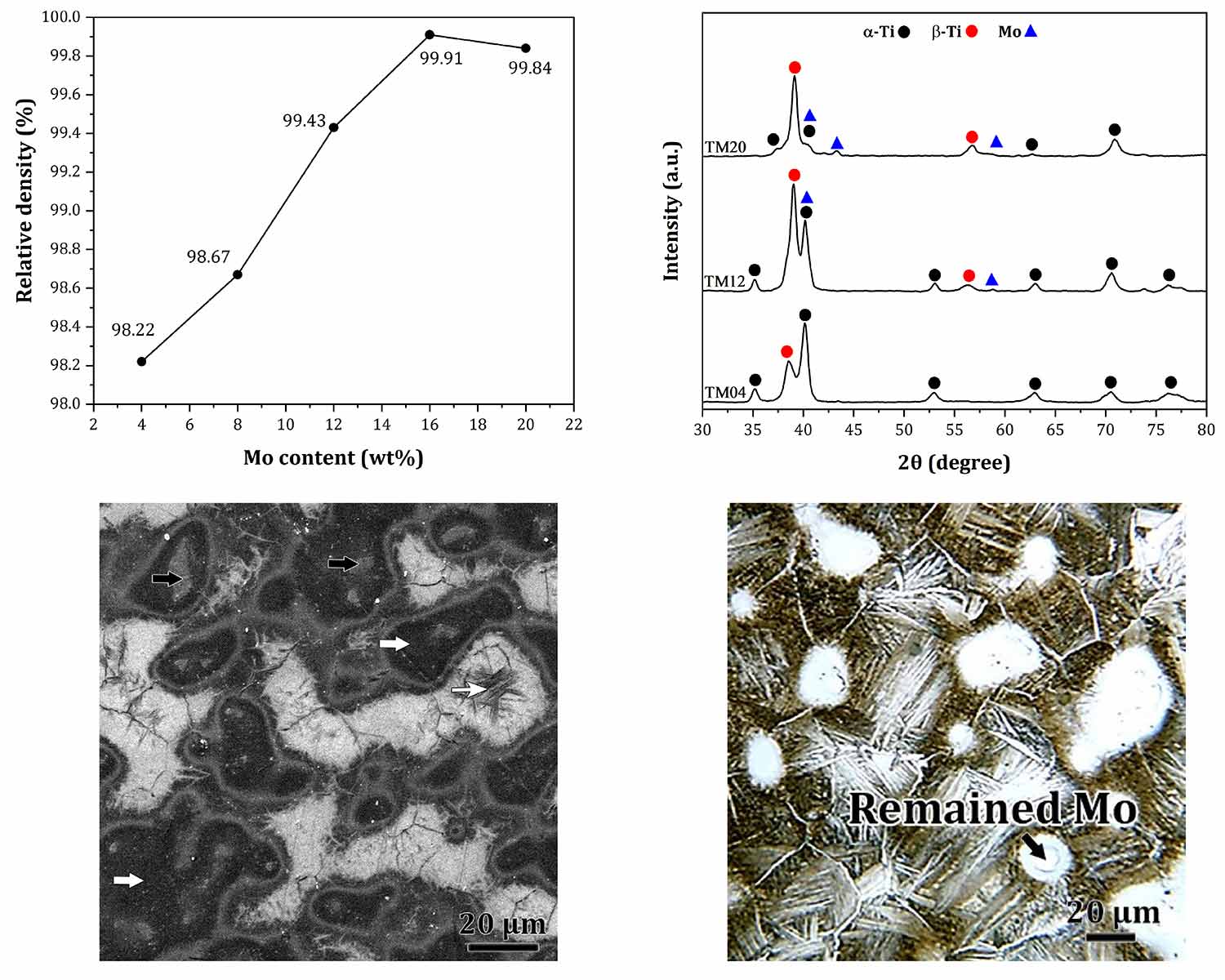 Submitted
2021-03-15
Published
2021-04-10
How to Cite
Saravana Kumar , M., Rashia Begum , S., Vasumathi , M., Nguyen , C. C., & Le , Q. V. (2021). Influence of molybdenum content on the microstructure of spark plasma sintered titanium alloys. Synthesis and Sintering, 1(1), 41-47. https://doi.org/10.53063/synsint.2021.1114
Copyright (c) 2021 M. Saravana Kumar , S. Rashia Begum , M. Vasumathi , Chinh Chien Nguyen , Quyet Van Le
This work is licensed under a Creative Commons Attribution 4.0 International License.
Copyright
Authors are the copyright holders of their published papers in Synthesis and Sintering, which are simultaneously licensed under a Creative Commons Attribution 4.0 International License. The full details of the license are available at https://creativecommons.org/licenses/by/4.0/.
All papers published open access will be immediately and permanently free for everyone to read, download, copy, distribute, print, search, link to the full-text of papers, crawl them for indexing, pass them as data to software, or use them for any other lawful purpose without any registration obstacles or subscription fees.