In-situ synthesis of TiN and TiB2 compounds during reactive spark plasma sintering of BN–Ti composites
Maryam Abdolahpour Salari

Department of Physics, Faculty of Sciences, Ataturk University, Erzurum, Turkey

Günay Merhan Muğlu

Hınıs Vocational College, Department of Medical Services and Techniques, Ataturk University, Erzurum, Turkey

Mohsen Rezaei

Department of Chemistry, Faculty of Sciences, Ataturk University, Erzurum, Turkey

M. Saravana Kumar

Department of Mechanical Engineering, Mount Zion College of Engineering and Technology, Pudukkottai, Tamil Nadu, India

Harikrishnan Pulikkalparambil

Department of Materials and Production Engineering, The Sirindhorn International Thai-German Graduate School of Engineering (TGGS), King Mongkut's University of Technology North Bangkok, Bangkok, 10800, Thailand

Suchart Siengchin

Department of Materials and Production Engineering, The Sirindhorn International Thai-German Graduate School of Engineering (TGGS), King Mongkut's University of Technology North Bangkok, Bangkok, 10800, Thailand
Abstract
A BN-TiB2-TiN composite was produced via reactive sintering of the hexagonal BN (hBN) with 20 wt% Ti. Spark plasma sintering (SPS) was used as the fabrication method and the sample was characterized by X-ray diffractometry, energy-dispersive X-ray spectroscopy, and scanning electron microscopy. According to the results, the Ti was utterly consumed during the SPS, led to the in-situ TiB2 and TiN0.9 formations. Additionally, the microstructural study revealed the nucleation and growth of new hBN platelets from the initial fine hBN particles. Anyway, the final composite reached a relative density of 95%, because of the remaining free spaces between the hBN platelets. It was found that some nitrogen and boron atoms could leave the TiN and TiB2 microstructures, respectively, and diffuse into the opposing phase.
Downloads
Download data is not yet available.
Keywords:
Boron nitride, Titanium, Reactive spark plasma sintering, In-situ phases, Synthesis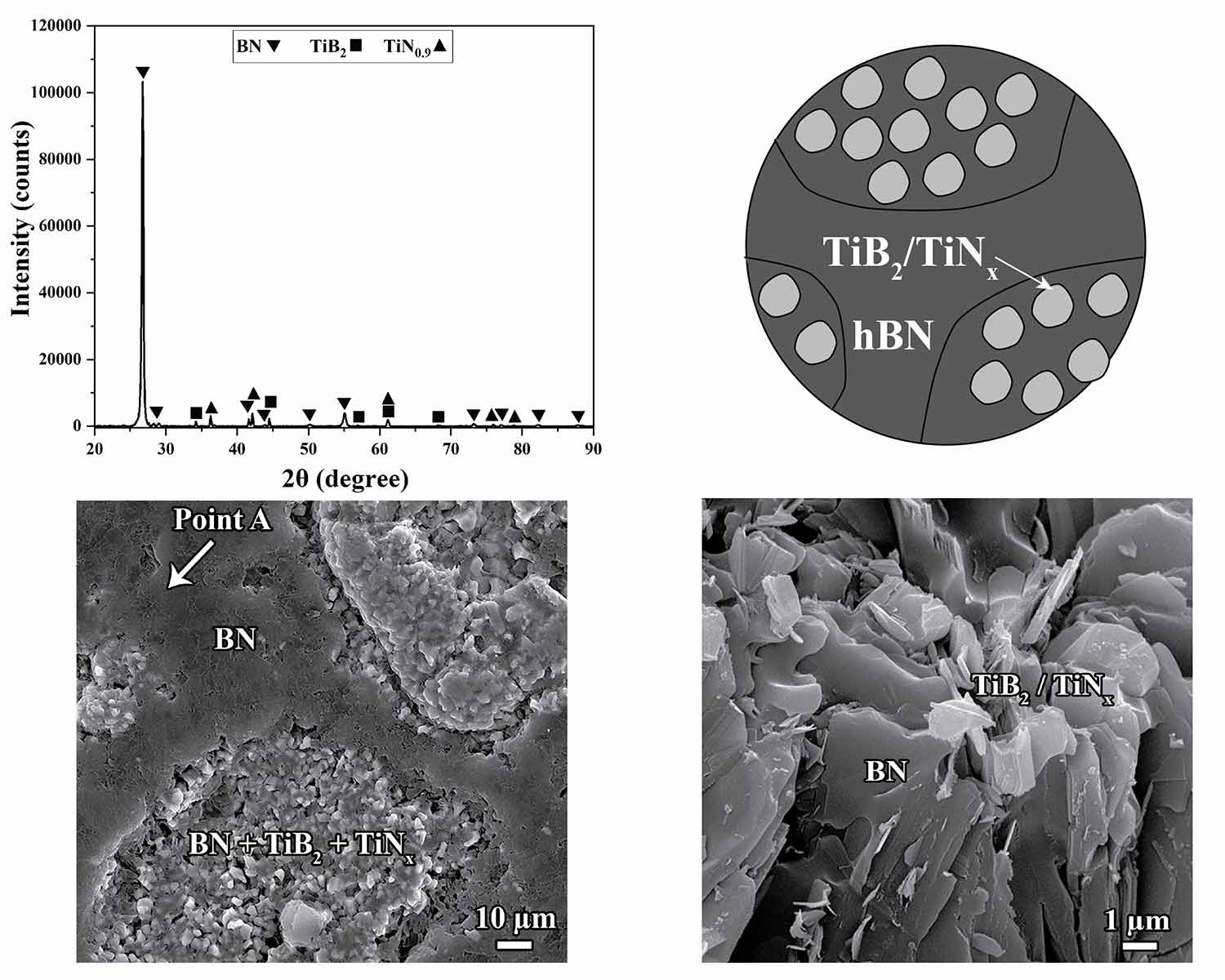 Submitted
2021-03-13
Published
2021-04-23
How to Cite
Abdolahpour Salari, M., Merhan Muğlu, G., Rezaei, M., Saravana Kumar , M., Pulikkalparambil, H., & Siengchin, S. (2021). In-situ synthesis of TiN and TiB2 compounds during reactive spark plasma sintering of BN–Ti composites. Synthesis and Sintering, 1(1), 48-53. https://doi.org/10.53063/synsint.2021.119
Copyright (c) 2021 Maryam Abdolahpour Salari, Günay Merhan Muğlu, Mohsen Rezaei, M. Saravana Kumar , Harikrishnan Pulikkalparambil, Suchart Siengchin
This work is licensed under a Creative Commons Attribution 4.0 International License.
Copyright
Authors are the copyright holders of their published papers in Synthesis and Sintering, which are simultaneously licensed under a Creative Commons Attribution 4.0 International License. The full details of the license are available at https://creativecommons.org/licenses/by/4.0/.
All papers published open access will be immediately and permanently free for everyone to read, download, copy, distribute, print, search, link to the full-text of papers, crawl them for indexing, pass them as data to software, or use them for any other lawful purpose without any registration obstacles or subscription fees.