Effects of carbon nano-additives on characteristics of TiC ceramics prepared by field-assisted sintering
Shapour Jafargholinejad

Department of Mechanical Engineering, York University, Toronto, ON, Canada

Soheyl Soleymani

Imperial Oil,602 Christina Street S., Sarnia, Ontario, Canada
Abstract
Five carbonaceous nano-additives (graphite, graphene, carbon black, carbon nanotubes, and diamond) had different impacts on the sinterability, microstructural evolution, and properties of titanium carbide. In this research, the sintering by spark plasma was employed to produce the monolithic TiC and carbon-doped ceramics under the sintering parameters of 1900 ºC, 10 min, 40 MPa. The carbon black additive had the best performance in densifying the TiC, thanks to its fine particle size, as well as its high chemical reactivity with TiO2 surface oxide. By contrast, the incorporation of nano-diamonds resulted in a considerable decline in the relative density of TiC owing to the graphitization phenomenon, together with the gas production at high temperatures. Although carbon precipitation from the TiC matrix occurred in all samples, some of the added carbonaceous phases promoted this phenomenon, while the others hindered it to some extent. Amongst the introduced additives, carbon black had the most contribution to grain refining, so that a roughly halved average grain size was attained in comparison with the undoped specimen. The highest values of hardness (3233 HV0.1 kg), thermal conductivity (25.1 W/mK), and flexural strength (658 MPa) secured for the ceramic incorporated by 5 wt% nano carbon black.
Downloads
Download data is not yet available.
Keywords:
Titanium carbide, Carbon additive, Nanomaterials, Spark plasma sintering, Characterization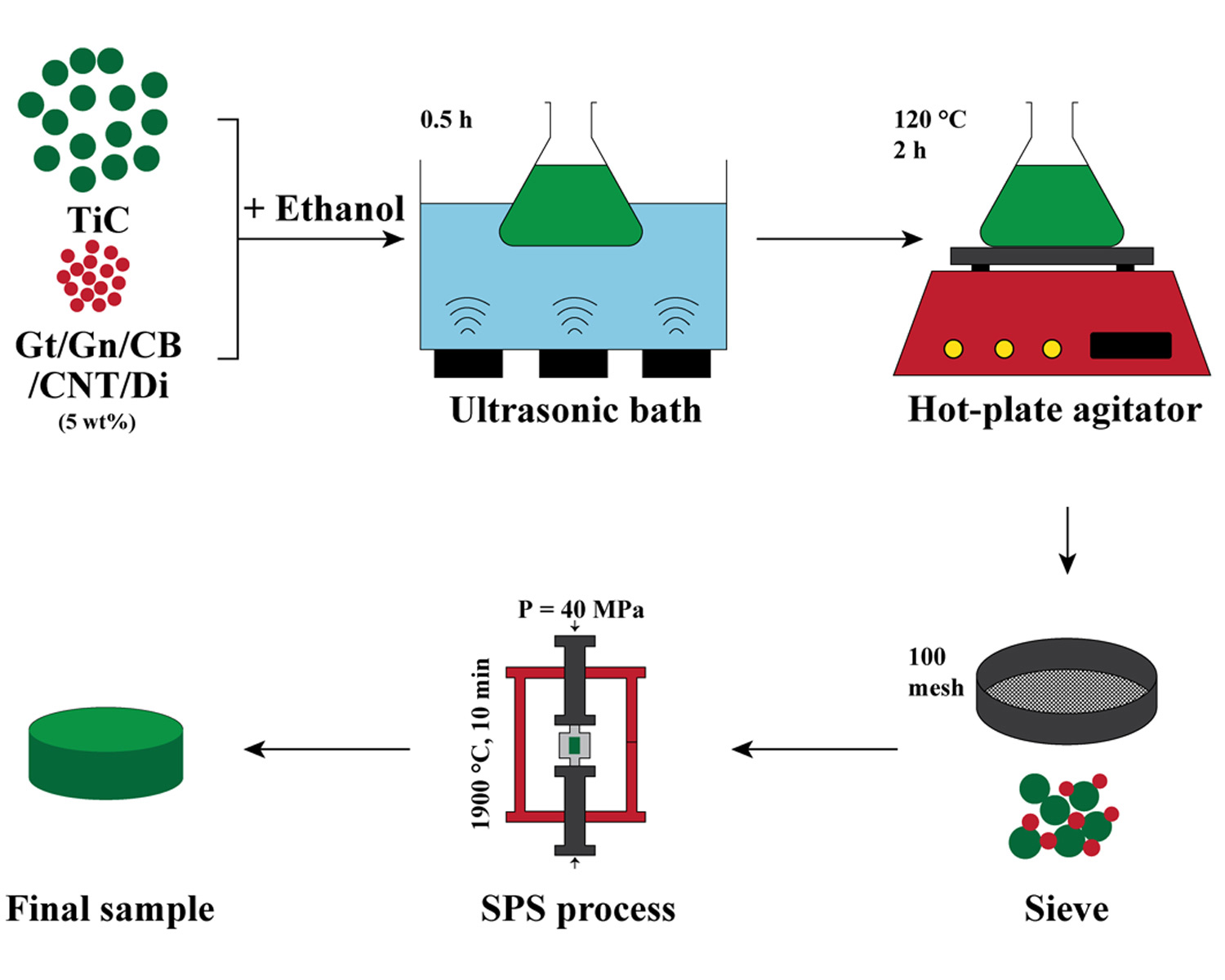 Submitted
2021-04-19
Published
2021-04-30
How to Cite
Jafargholinejad , S., & Soleymani, S. (2021). Effects of carbon nano-additives on characteristics of TiC ceramics prepared by field-assisted sintering. Synthesis and Sintering, 1(1), 62-68. https://doi.org/10.53063/synsint.2021.1123
Copyright (c) 2021 Shapour Jafargholinejad , Soheyl Soleymani
This work is licensed under a Creative Commons Attribution 4.0 International License.
Copyright
Authors are the copyright holders of their published papers in Synthesis and Sintering, which are simultaneously licensed under a Creative Commons Attribution 4.0 International License. The full details of the license are available at https://creativecommons.org/licenses/by/4.0/.
All papers published open access will be immediately and permanently free for everyone to read, download, copy, distribute, print, search, link to the full-text of papers, crawl them for indexing, pass them as data to software, or use them for any other lawful purpose without any registration obstacles or subscription fees.