Crystallization behavior and structural evaluation of cordierite base glass-ceramic in the presence of CaO and B2O3 additives
Zahra Shamohammadi Ghahsareh

Department of Materials Engineering, University of Tabriz, Tabriz, Iran

Mohammad Rezvani

Department of Materials Engineering, University of Tabriz, Tabriz, Iran
Abstract
The purpose of the present work is to highlight the role of CaO and B2O3 additives on the crystallization behavior and microstructural properties of stoichiometric cordierite glass-ceramics using differential thermal analysis (DTA), X-ray diffraction (XRD), Fourier transform infrared spectroscopy (FTIR), Vickers micro-hardness and scanning electron microscopy (SEM). The results show that the presence of B2O3 and CaO in the initial glass led to the precipitation of only one exothermic peak (α-cordierite: Mg2Al4Si5O18). During the heat treatment process, the presence of calcium oxide favors crystallization of anorthite (CaAl2Si2O8) besides α-cordierite phase. It is worth mentioning that, CaO and B2O3 additives strongly encourage the formation of α-cordierite and have the opposite effect on the crystallization of μ-cordierite. In order to determine the effect of crystallization and B2O3 and CaO additives on the hardness of specimens, the micro-hardness measurement of glasses and glass-ceramics shows that the glass-ceramic containing CaO (MAS5C) exhibits the highest micro-hardness value, which depends on the high crystallinity value in this specimen.
Downloads
Download data is not yet available.
Keywords:
Glass-ceramic, Cordierite, Crystallization, Heat treatment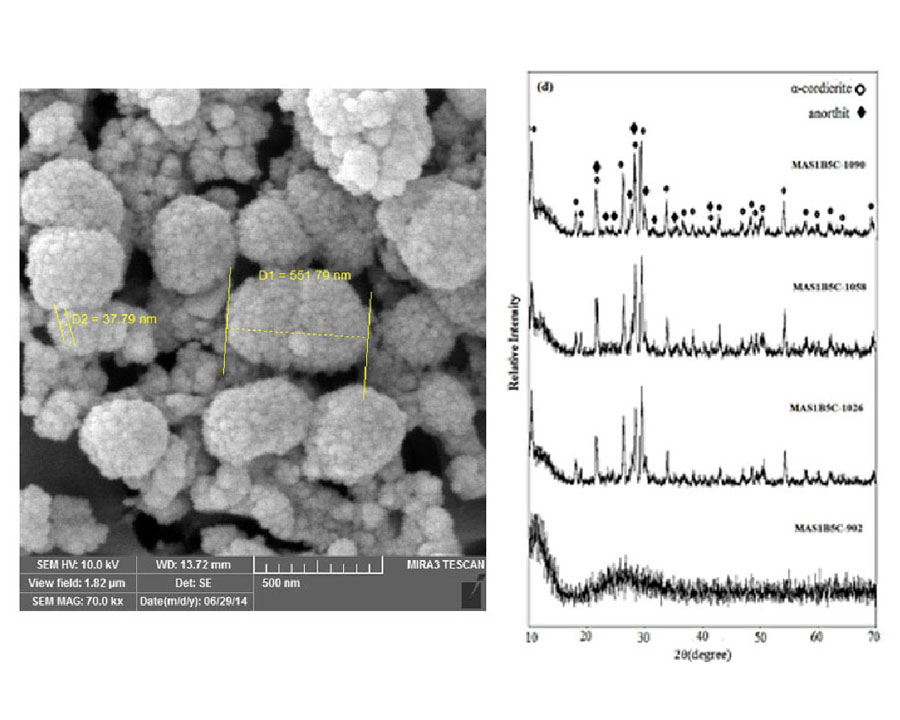 Submitted
2022-12-16
Published
2022-12-31
How to Cite
Shamohammadi Ghahsareh, Z., & Rezvani, M. (2022). Crystallization behavior and structural evaluation of cordierite base glass-ceramic in the presence of CaO and B2O3 additives. Synthesis and Sintering, 2(4), 198-205. https://doi.org/10.53063/synsint.2022.24136
Copyright (c) 2022 Zahra Shamohammadi Ghahsareh, Mohammad rezvani
This work is licensed under a Creative Commons Attribution 4.0 International License.
Copyright
Authors are the copyright holders of their published papers in Synthesis and Sintering, which are simultaneously licensed under a Creative Commons Attribution 4.0 International License. The full details of the license are available at https://creativecommons.org/licenses/by/4.0/.
All papers published open access will be immediately and permanently free for everyone to read, download, copy, distribute, print, search, link to the full-text of papers, crawl them for indexing, pass them as data to software, or use them for any other lawful purpose without any registration obstacles or subscription fees.