Oxidation response of ZrB2–SiC–ZrC composites prepared by spark plasma sintering
Mohsen Ghasilzadeh Jarvand

Department of Materials Science and Engineering, Ahvaz Branch, Islamic Azad University, Ahvaz, Iran

Zohre Balak

Department of Materials Science and Engineering, Ahvaz Branch, Islamic Azad University, Ahvaz, Iran
Abstract
Considering the importance and application of ultrahigh temperature ceramics in oxidizing environments, in this research, the effect of ZrC content and spark plasma sintering parameters (temperature, time and pressure) on the oxidation response of ZrB2–SiC composites has been investigated. After fabricating the ternary composite samples in different SPS conditions and with different amounts of ZrC, the post-sintering oxidation process was carried out in a box furnace at the temperature of 1400 °C. Increasing the time and temperature of the SPS process caused the decrease in the oxidation resistance of the samples. The reason for such observations was attributed to the extreme growth of grains with increasing the temperature and time of the sintering process despite the better densification of the samples. This research did not reach a clear result about the effect of SPS pressure on composites oxidation behavior. Increasing the amount of ZrC also did not have a positive effect on the oxidation resistance of the samples because this phase itself undergoes oxidation at low temperatures.
Downloads
Download data is not yet available.
Keywords:
Ultrahigh temperature ceramics, Oxidation behavior, Spark plasma sintering, Processing parameters, Additive content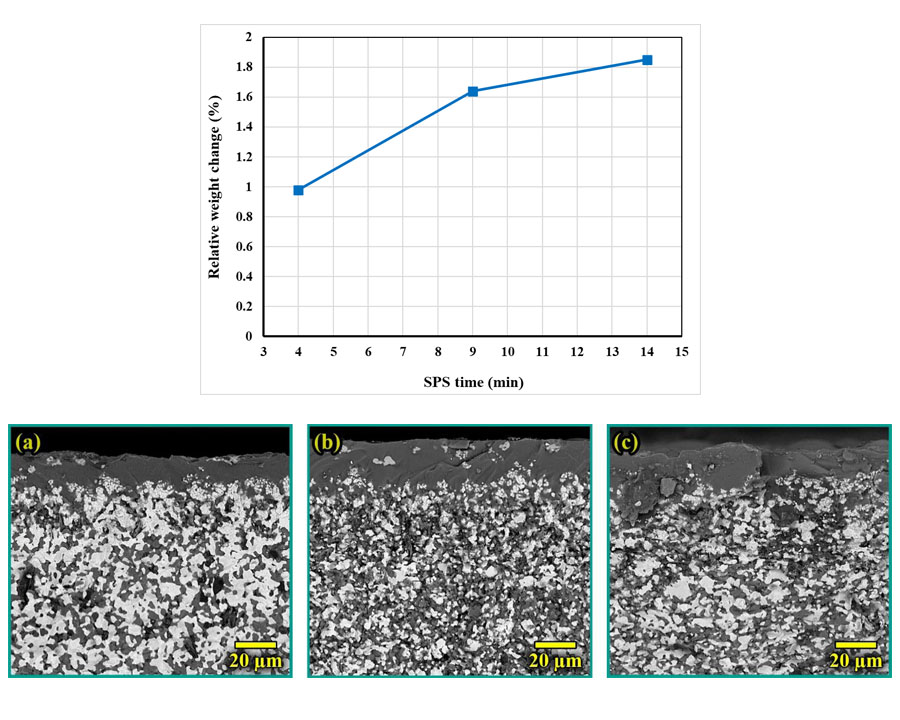 Submitted
2022-12-04
Published
2022-12-31
How to Cite
Ghasilzadeh Jarvand, M., & Balak, Z. (2022). Oxidation response of ZrB2–SiC–ZrC composites prepared by spark plasma sintering. Synthesis and Sintering, 2(4), 191-197. https://doi.org/10.53063/synsint.2022.24134
Copyright (c) 2022 Mohsen Ghasilzadeh Jarvand, Zohre Balak
This work is licensed under a Creative Commons Attribution 4.0 International License.
Copyright
Authors are the copyright holders of their published papers in Synthesis and Sintering, which are simultaneously licensed under a Creative Commons Attribution 4.0 International License. The full details of the license are available at https://creativecommons.org/licenses/by/4.0/.
All papers published open access will be immediately and permanently free for everyone to read, download, copy, distribute, print, search, link to the full-text of papers, crawl them for indexing, pass them as data to software, or use them for any other lawful purpose without any registration obstacles or subscription fees.