Oxidation-affected zone in the sintered ZrB2–SiC–HfB2 composites
Ebrahim Dodi

Department of Materials Science and Engineering, Ahvaz Branch, Islamic Azad University, Ahvaz, Iran

Zohre Balak

Department of Materials Science and Engineering, Ahvaz Branch, Islamic Azad University, Ahvaz, Iran

Hosein Kafashan

Department of Materials Science and Engineering, Ahvaz Branch, Islamic Azad University, Ahvaz, Iran
Abstract
Understanding the behavior of ultra-high temperature ceramics (UHTCs) against oxidation is of particular importance in high-temperature applications. In this study, ZrB2–SiC–HfB2 UHTC composites were fabricated by spark plasma sintering (SPS) method at different temperatures, times, and pressures to investigate the effects of sintering process variables on their oxidation resistance. Before the oxidation tests, the as-sintered samples contained ZrB2 and SiC phases with (Zr,Hf)B2 solid solution. The samples were subjected to oxidative conditions at 1400 °C and their relative mass changes were measured as a function of oxidation time up to 20 hours. FESEM and EDS equipment were used for microstructural and elemental analyzes of cross-sections of different oxide layers. Due to the oxygen diffusion, ZrO2 and SiO2 phases appeared alongside (Zr, Hf)O2 in the surface layers. After identifying the several oxides and SiC-depleted layers in the oxidation-affected zone, a schematic model for the arrangement of such layers was proposed.
Downloads
Download data is not yet available.
Keywords:
UHTCs, ZrB2–SiC–HfB2, Oxidation resistance, SPS, Oxide layers, SiC-depleted area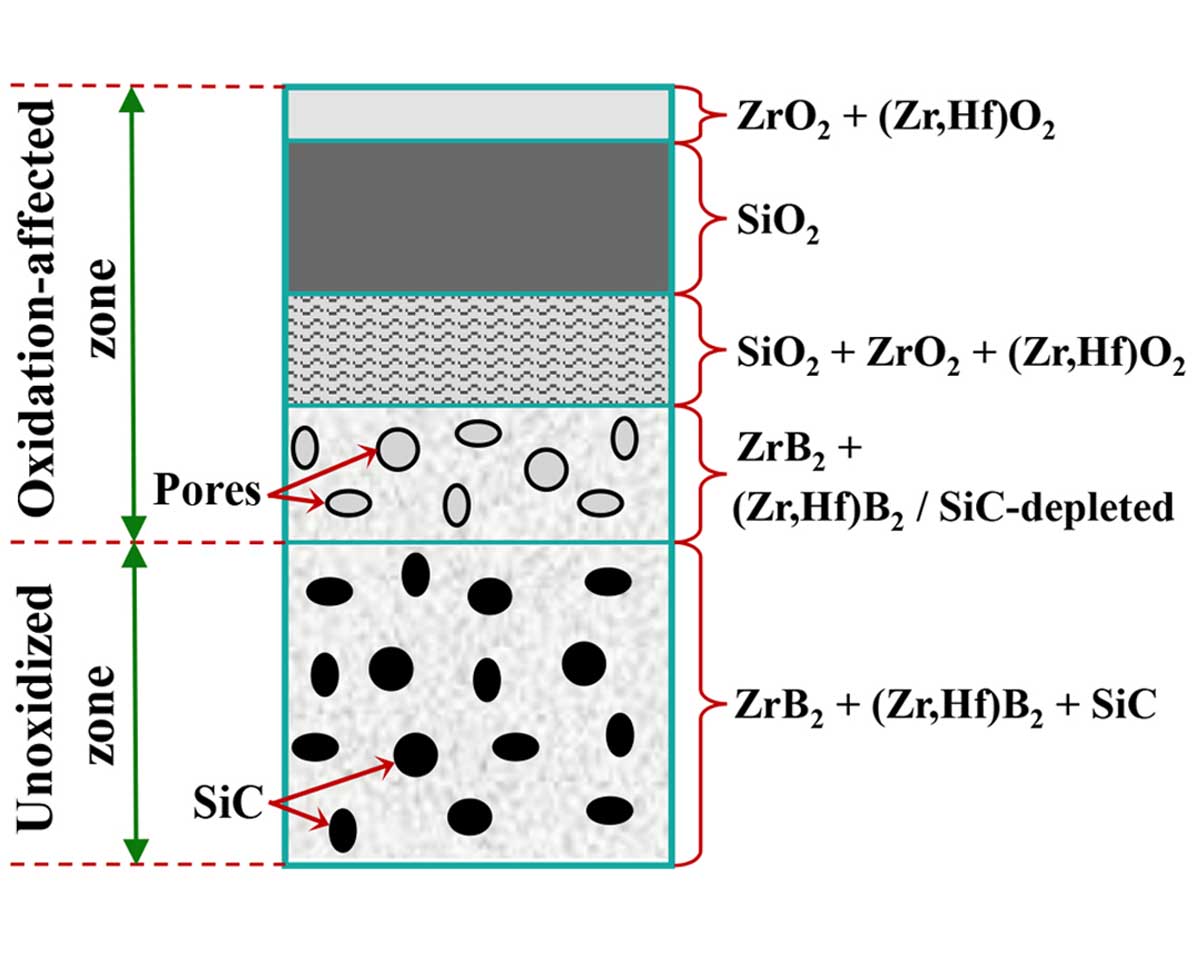 Submitted
2022-03-06
Published
2022-03-26
How to Cite
Dodi, E., Balak, Z., & Kafashan, H. (2022). Oxidation-affected zone in the sintered ZrB2–SiC–HfB2 composites. Synthesis and Sintering, 2(1), 31-36. https://doi.org/10.53063/synsint.2022.21111
Copyright (c) 2022 Ebrahim Dodi, Zohre Balak, Hosein Kafashan
This work is licensed under a Creative Commons Attribution 4.0 International License.
Copyright
Authors are the copyright holders of their published papers in Synthesis and Sintering, which are simultaneously licensed under a Creative Commons Attribution 4.0 International License. The full details of the license are available at https://creativecommons.org/licenses/by/4.0/.
All papers published open access will be immediately and permanently free for everyone to read, download, copy, distribute, print, search, link to the full-text of papers, crawl them for indexing, pass them as data to software, or use them for any other lawful purpose without any registration obstacles or subscription fees.