Role of Si3N4 on microstructure and hardness of hot-pressed ZrB2−SiC composites
Zahra Bahararjmand

Department of Biophysics, Istanbul University-Cerrahpasa, Istanbul, Turkey

Mohammad A. Khalilzadeh

Department of Forest Biomaterials, College of Natural Resources, North Carolina State University, Raleigh, North Carolina, 27695-8005, United States

Farshad Saberi-Movahed

Department of Materials Science and Engineering٫ North Carolina State University, Raleigh, North Carolina, 27695-8005, United States

Tae Hyung Lee

Department of Materials Science and Engineering, Research Institute of Advanced Materials, Seoul National University, Seoul 08826, Republic of Korea

Jinghan Wang

Department of Materials Science and Engineering, Research Institute of Advanced Materials, Seoul National University, Seoul 08826, Republic of Korea

Sea-hoon Lee

Division of Powder/Ceramics Research, Korea Institute of Materials Science, Changwon, 51508, Republic of Korea

Ho Won Jang

Department of Materials Science and Engineering, Research Institute of Advanced Materials, Seoul National University, Seoul 08826, Republic of Korea
Abstract
The impact of Si3N4 content on the hardness and microstructural developments of ZrB2-SiC material has been investigated thoroughly in the present investigation. Having prepared the raw materials in a jar mill, the ZrB2-SiC samples containing various amounts of Si3N4 were hot-pressed at 1850 °C. Furthermore, XRD, FESEM, and HRTEM were utilized to evaluate the microstructure of samples. The formation of in-situ h-BN was proved by the mentioned methods. Also, it was shown that the Vickers hardness of ZrB2-SiC increases up to 20 GPa in presence of 4.5 wt% Si3N4 which is 3 GPa more than the sample without Si3N4. Results show that the positive effect of increased relative density on hardness is more than the negative effect of h-BN soft phase formation.
Downloads
Download data is not yet available.
Keywords:
Hot-pressing, ZrB2-SiC-Si3N4, Microstructure, Hardness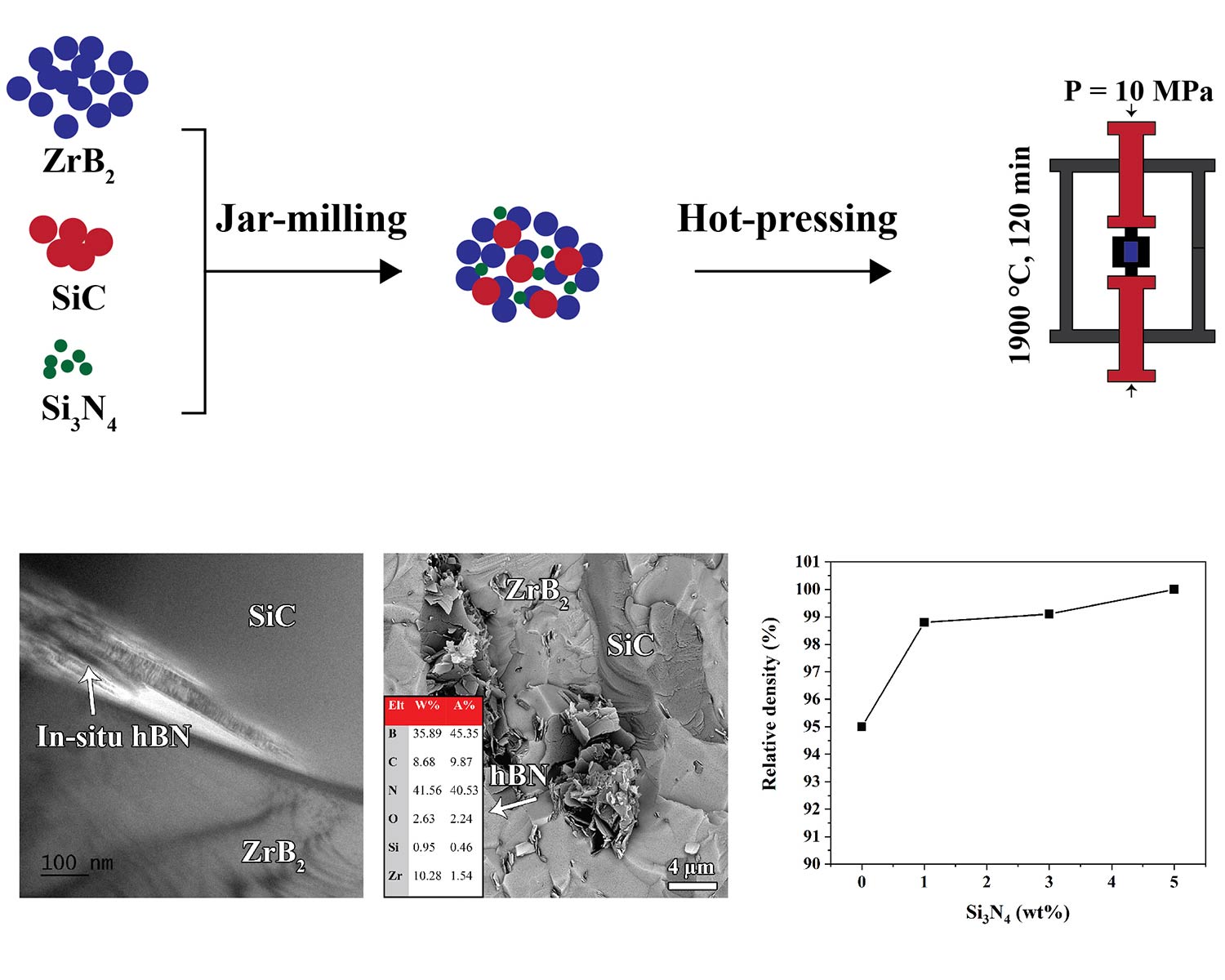 Submitted
2021-03-15
Published
2021-04-10
How to Cite
Bahararjmand, Z., Khalilzadeh, M. A., Saberi-Movahed, F., Lee, T. H., Wang, J., Lee, S.- hoon, & Jang, H. W. (2021). Role of Si3N4 on microstructure and hardness of hot-pressed ZrB2−SiC composites. Synthesis and Sintering, 1(1), 34-40. https://doi.org/10.53063/synsint.2021.1113
Copyright (c) 2021 Zahra Bahararjmand, Mohammad A. Khalilzadeh, Farshad Saberi-Movahed, Tae Hyung Lee, Jinghan Wang, Sea-hoon Lee, Ho Won Jang
This work is licensed under a Creative Commons Attribution 4.0 International License.
Copyright
Authors are the copyright holders of their published papers in Synthesis and Sintering, which are simultaneously licensed under a Creative Commons Attribution 4.0 International License. The full details of the license are available at https://creativecommons.org/licenses/by/4.0/.
All papers published open access will be immediately and permanently free for everyone to read, download, copy, distribute, print, search, link to the full-text of papers, crawl them for indexing, pass them as data to software, or use them for any other lawful purpose without any registration obstacles or subscription fees.