Effect of glass waste as a cement replacement on the mechanical properties of concrete
Sara Ahmadi

Construction and Minerals Research Group, Technology and Engineering Research Center, Standard Research Institute, Karaj, Alborz, Iran
Abstract
Every day, several tons of glass are disposed of as waste. Glass waste, as a non-degradable waste, causes many environmental problems. Using glass waste powder in concrete as a partial substitute for cement has notable effects on reducing environmental pollutants, energy consumption, and concrete production costs. In this study, the impact of using waste glass powder in levels of 5, 10, 15, and 20 wt% as a substitute for cement on the mechanical properties of concrete was evaluated. Chemical analysis of glass and cement samples was determined using X-ray fluorescence (XRF). The flexural and compressive strength of the samples were measured according to ISO 679, Methods of testing cement–Determination of strength, in 3, 7, 28, and 90 days. The compressive strength test results showed that the strength of concrete increases by the amount of used glass powder in the concrete composition. The highest value of compressive strength was obtained by the sample with 15 wt% of glass powder.
Downloads
Download data is not yet available.
Keywords:
C-S-H gel synthesis, Green concrete, Glass waste, Mechanical properties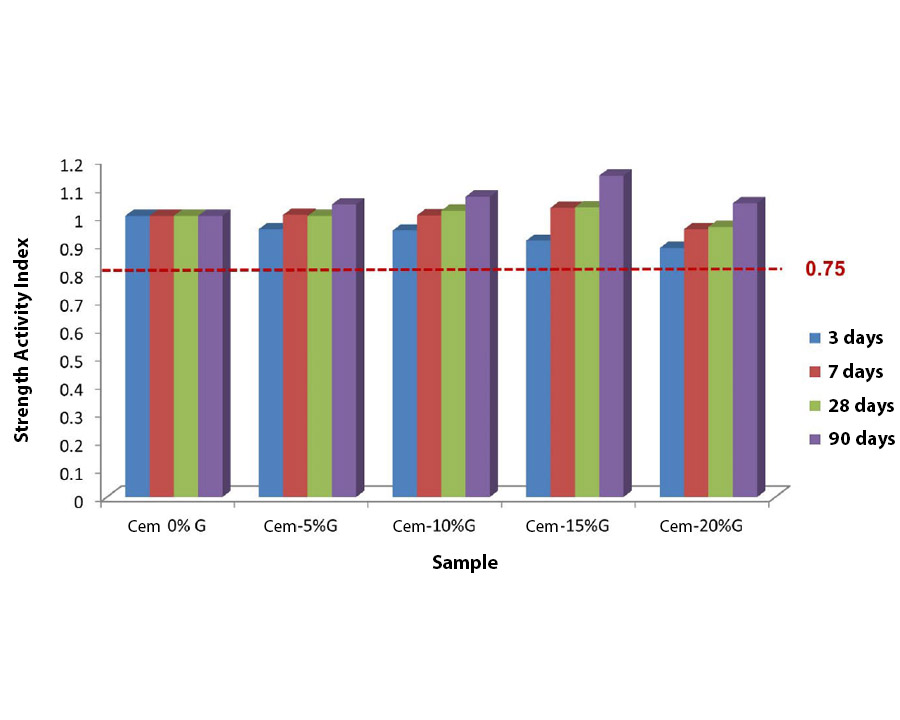 Submitted
2022-08-13
Published
2022-09-27
How to Cite
Ahmadi, S. (2022). Effect of glass waste as a cement replacement on the mechanical properties of concrete. Synthesis and Sintering, 2(3), 125-130. https://doi.org/10.53063/synsint.2022.23120
Copyright (c) 2022 Sara Ahmadi
This work is licensed under a Creative Commons Attribution 4.0 International License.
Copyright
Authors are the copyright holders of their published papers in Synthesis and Sintering, which are simultaneously licensed under a Creative Commons Attribution 4.0 International License. The full details of the license are available at https://creativecommons.org/licenses/by/4.0/.
All papers published open access will be immediately and permanently free for everyone to read, download, copy, distribute, print, search, link to the full-text of papers, crawl them for indexing, pass them as data to software, or use them for any other lawful purpose without any registration obstacles or subscription fees.