Electrochemical evaluation of the hydroxyapatite coating synthesized on the AZ91 by electrophoretic deposition route
Arezoo Jangjoo Tazeh Kand

Materials Engineering Department, University of Tabriz, Tabriz, Iran

Fereshteh Afaghi

Materials Engineering Department, University of Tabriz, Tabriz, Iran

Arvin Taghizadeh Tabrizi

School of Metallurgy and Materials Engineering, Iran University of Science and Technology, Narmak, Tehran, Iran

Hossein Aghajani

School of Metallurgy and Materials Engineering, Iran University of Science and Technology, Narmak, Tehran, Iran

Hilal Demir Kivrak

Department of Chemical Engineering, Faculty of Engineering and Architectural Sciences, Eskisehir Osmangazi University, Eskisehir, Turkey
Abstract
The hydroxyapatite layer was deposited on the commercial magnesium alloy of AZ91 by electrophoretic deposition route, and the corrosion behavior of applied layers was studied by polarization and electrochemical impedance spectroscopy at the Simulated Body Fluid (SBF) solution. The best corrosion resistance improvement was obtained for the sample synthesized at 40 V within 4 minutes. Also, the morphology of coated samples was studied by atomic force microscopy (AFM) and the surface parameters were measured. It could be concluded that the calculated values for surface parameters including surface roughness, maximum peak height, maximum pit depth, and maximum peak have a meaningful relationship with corrosion resistance.
Downloads
Download data is not yet available.
Keywords:
Hydroxyapatite layer, Magnesium alloy, Electrophoretic deposition, Electrochemical impedance spectroscopy, Synthesis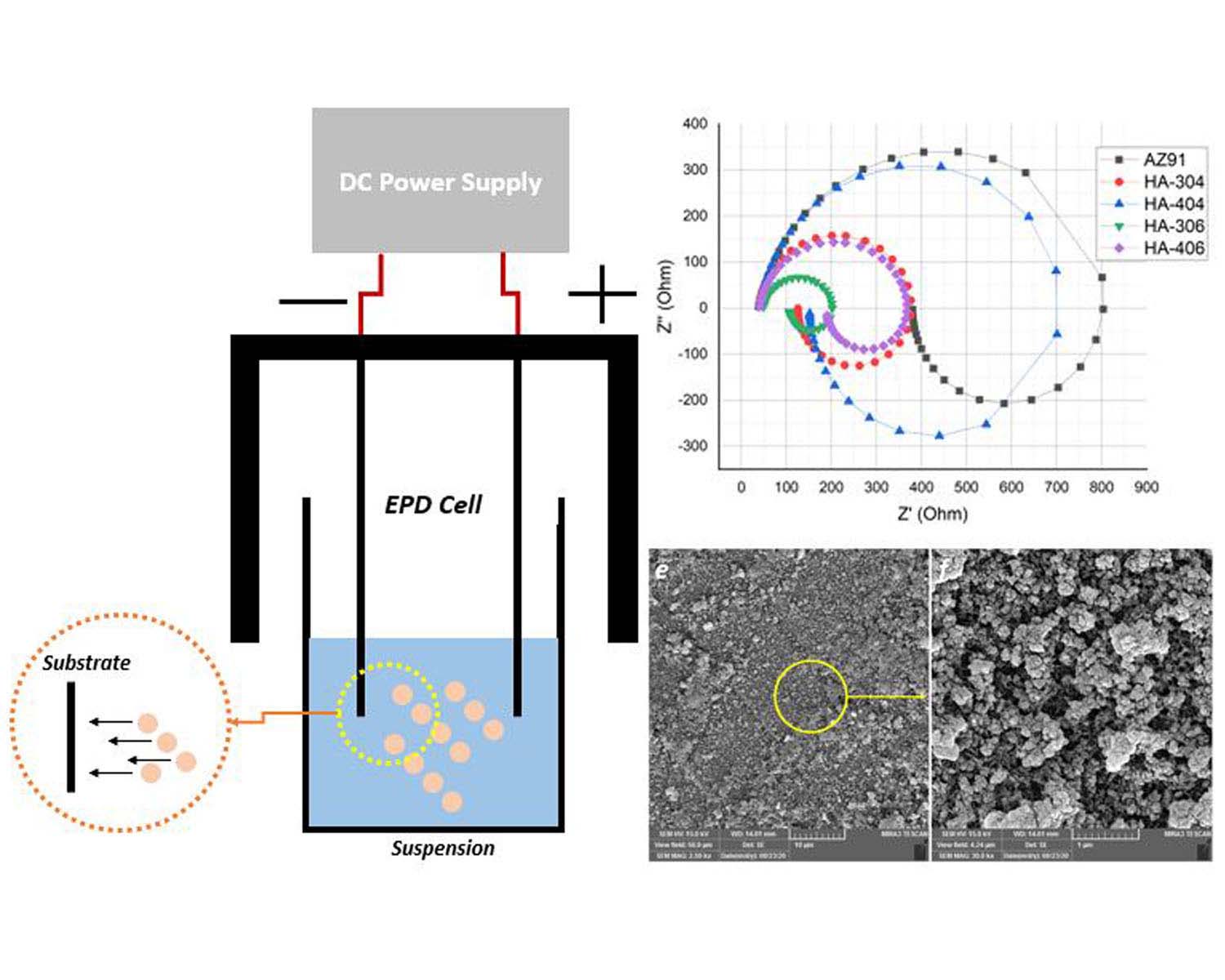 Submitted
2021-05-18
Published
2021-06-11
How to Cite
Jangjoo Tazeh Kand, A., Afaghi, F., Taghizadeh Tabrizi, A., Aghajani, H., & Demir Kivrak, H. (2021). Electrochemical evaluation of the hydroxyapatite coating synthesized on the AZ91 by electrophoretic deposition route. Synthesis and Sintering, 1(2), 85-91. https://doi.org/10.53063/synsint.2021.1226
Copyright (c) 2021 Arezoo Jangjoo Tazeh Kand, Fereshteh Afaghi, Arvin Taghizadeh Tabrizi, Hossein Aghajani, Hilal Demir Kivrak
This work is licensed under a Creative Commons Attribution 4.0 International License.
Copyright
Authors are the copyright holders of their published papers in Synthesis and Sintering, which are simultaneously licensed under a Creative Commons Attribution 4.0 International License. The full details of the license are available at https://creativecommons.org/licenses/by/4.0/.
All papers published open access will be immediately and permanently free for everyone to read, download, copy, distribute, print, search, link to the full-text of papers, crawl them for indexing, pass them as data to software, or use them for any other lawful purpose without any registration obstacles or subscription fees.