Synthesis and characterization of aluminum-yttrium perovskite powder using a co-precipitation technique
Sara Ahmadi

Construction and Minerals Research Group, Technology and Engineering Research Center, Standard Research Institute, Alborz, Iran
Abstract
In this research the YAlO3 perovskite powder (YAP) was successfully synthesized by co-precipitation route. Co-precipitation synthesis is simple and affordable technique that capable to produce more homogeneous powders.
The temperature was lowered to 1400 °C as a result of the first step's investigation into how different mineralizers affect YAlO3 formation. The next step involved examining the impact of pH on the synthesis process as well as the calcination time and temperature. The optimal conditions for the synthesis of single-phase YAP were subsequently determined.
Scanning electron microscopy (SEM), inductively coupled plasma mass spectrometry (ICP-Mass), and X-ray diffraction (XRD) analysis have all been used to characterize the obtained powders.
The findings demonstrate that the NaF:MgF2:Li2CO3 (3:2:1 by weight) was the most suitable mineralizer system for formation of YAlO3 perovskite. ). In addition, powders of orthorhombic YAP were successfully synthesized at pH=9. The optimal conditions for the preparation of single phase aluminum-yttrium perovskite crystals were found to be calcination at 1400 °C for 4 hours.
Downloads
Download data is not yet available.
Keywords:
YAP, Perovskite, Chemical synthesis, Co-precipitation, Aluminum-yttrium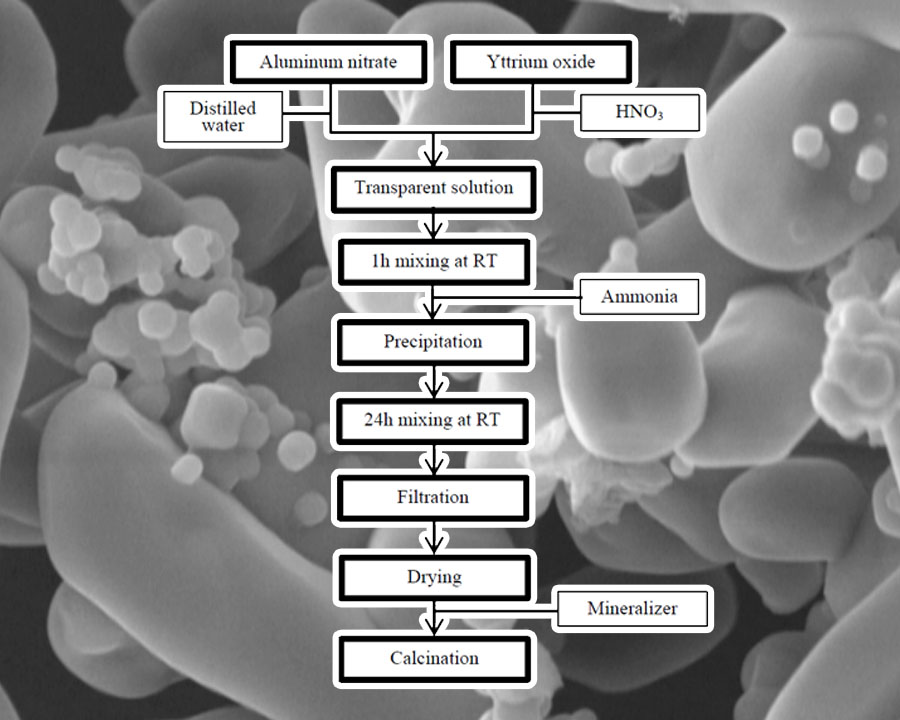 Submitted
2022-12-06
Published
2022-12-29
How to Cite
Ahmadi, S. (2022). Synthesis and characterization of aluminum-yttrium perovskite powder using a co-precipitation technique. Synthesis and Sintering, 2(4), 170-175. https://doi.org/10.53063/synsint.2022.24135
Copyright (c) 2022 Sara Ahmadi
This work is licensed under a Creative Commons Attribution 4.0 International License.
Copyright
Authors are the copyright holders of their published papers in Synthesis and Sintering, which are simultaneously licensed under a Creative Commons Attribution 4.0 International License. The full details of the license are available at https://creativecommons.org/licenses/by/4.0/.
All papers published open access will be immediately and permanently free for everyone to read, download, copy, distribute, print, search, link to the full-text of papers, crawl them for indexing, pass them as data to software, or use them for any other lawful purpose without any registration obstacles or subscription fees.