Pulsed electric current sintering of TiB2-based ceramics using nitride additives
Naeimeh Sadat Peighambardoust

Koç University Boron and Advanced Materials Applications and Research Center (KUBAM), Sariyer, Istanbul, 34450, Turkey

Çağın Çevik

Department of Biophysics, Istanbul University-Cerrahpasa, Istanbul, Turkey

Tannaz Assar

Department of Geophysical Engineering, Istanbul Technical University, Istanbul, Turkey

Sunghoon Jung

Advanced Nano Surface Department, Korea Institute of Materials Science, Changwon, 51508, Republic of Korea

Seon Yong Lee

Department of Materials Science and Engineering, Research Institute of Advanced Materials, Seoul National University, Seoul 08826, Republic of Korea

Joo Hwan Cha

Innovative Enterprise Cooperation Center, Korea Institute of Science & Technology, Hwarangro 14-gil, Seongbuk-gu, Seoul 02792, Republic of Korea
Abstract
In this research, various types of nitride additives were incorporated into titanium diboride attaining dense TiB2-based ceramics by field-assisted sintering technique. The addition of different types of nitride additives, namely Si3N4, BN, AlN, and TiN, significantly improved the sinterability of TiB2, achieving near fully dense ceramics. The X-ray diffraction analysis and microstructural evaluation confirmed the presence of the h-BN compound in all specimens. In the TiB2-Si3N4 ceramic, Si3N4 additive reacted with B2O3 oxide, in-situ generating h-BN, and SiO2 phases. Although the h-BN phase was produced in the TiB2-AlN specimen, the main proportion of AlN remained in the sample as an unreacted ex-situ phase. In terms of the TiB2-TiN ceramic, some of the nitrogen and boron atoms could leave the TiN and TiB2 crystalline structures, contributing to the in-situ formation of h-BN.
Downloads
Download data is not yet available.
Keywords:
Titanium diboride, Silicon nitride, Hexagonal boron nitride, Aluminum nitride, Titanium nitride, Field assisted sintering technique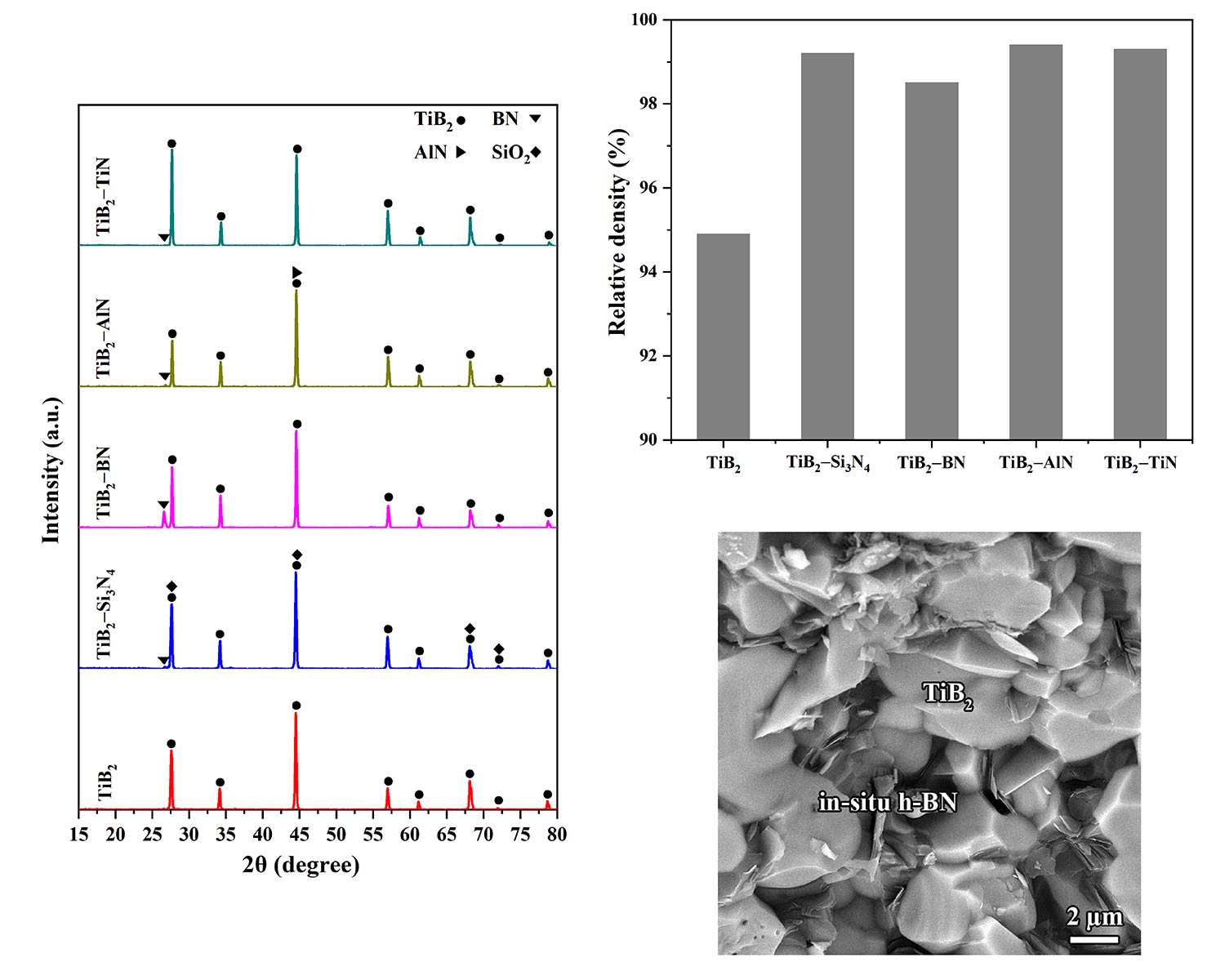 Submitted
2021-03-15
Published
2021-04-05
How to Cite
Peighambardoust, N. S., Çevik, Çağın, Assar, T., Jung, S., Lee, S. Y., & Cha, J. H. (2021). Pulsed electric current sintering of TiB2-based ceramics using nitride additives. Synthesis and Sintering, 1(1), 28-33. https://doi.org/10.53063/synsint.2021.1112
Copyright (c) 2021 Naeimeh Sadat Peighambardoust, Çağın Çevik, Tannaz Assar, Sunghoon Jung, Seon Yong Lee, Joo Hwan Cha
This work is licensed under a Creative Commons Attribution 4.0 International License.
Copyright
Authors are the copyright holders of their published papers in Synthesis and Sintering, which are simultaneously licensed under a Creative Commons Attribution 4.0 International License. The full details of the license are available at https://creativecommons.org/licenses/by/4.0/.
All papers published open access will be immediately and permanently free for everyone to read, download, copy, distribute, print, search, link to the full-text of papers, crawl them for indexing, pass them as data to software, or use them for any other lawful purpose without any registration obstacles or subscription fees.