Examination of water uptake performance and mechanical properties of PLA/flax fiber biocomposites with the coupling agent
Ali Avci

Hakkari University, Department of Mechanical Engineering, Hakkari, Türkiye

Aysegul Akdogan Eker

Yildiz Technical University, Department of Mechanical Engineering, Istanbul, Türkiye

Mustafa Bakkal

Istanbul Technical University, Department of Mechanical Engineering, Istanbul, Türkiye

Mehmet Safa Bodur

Yeditepe University, Department of Materials Science and Nanotechnology Engineering, Istanbul, Türkiye
Abstract
The paper reports, the effect of water sorption on the microstructural and flexural properties of the flax fiber/ polylactic acid (PLA) biocomposites compared to the composites with maleic anhydride (MAH) as coupling agents and alkali treatment. In the current study, five different biocomposites which are 15 % wt. flax/PLA, 25 % wt. flax/PLA as control group and15 % wt. flax/PLA, 25 % wt. flax /PLA, and 35% wt. flax / PLA with 5 % wt. MAH was produced. Ten different soaking times were studied to understand the water absorption behavior of the biocomposites. To investigate mechanical properties of the biocomposites impact test was applied on the dry and 750 h, 1850 h water sorption composites. A three-point bending test was performed on the dry and 1850 h water sorption biocomposites to determine flexural properties. Short flax fiber-reinforced PLA matrix biocomposites were compounded using extrusion and manufactured by injection molding. Flax fiber surface was treated using sodium hydroxy solution to advance the interface interaction between fiber-matrix and surface performance of the fiber and matrix. According to the results, alkali treatment improved the water gain resistance of the composites since its enhancement of the interfacial bonding. Alkali-treated composites with maleic anhydride showed the better impact and flexural strength than composites without alkali-treated after 1850 h water sorption.
Downloads
Download data is not yet available.
Keywords:
Biocomposites, Water Uptake, Flexural Performance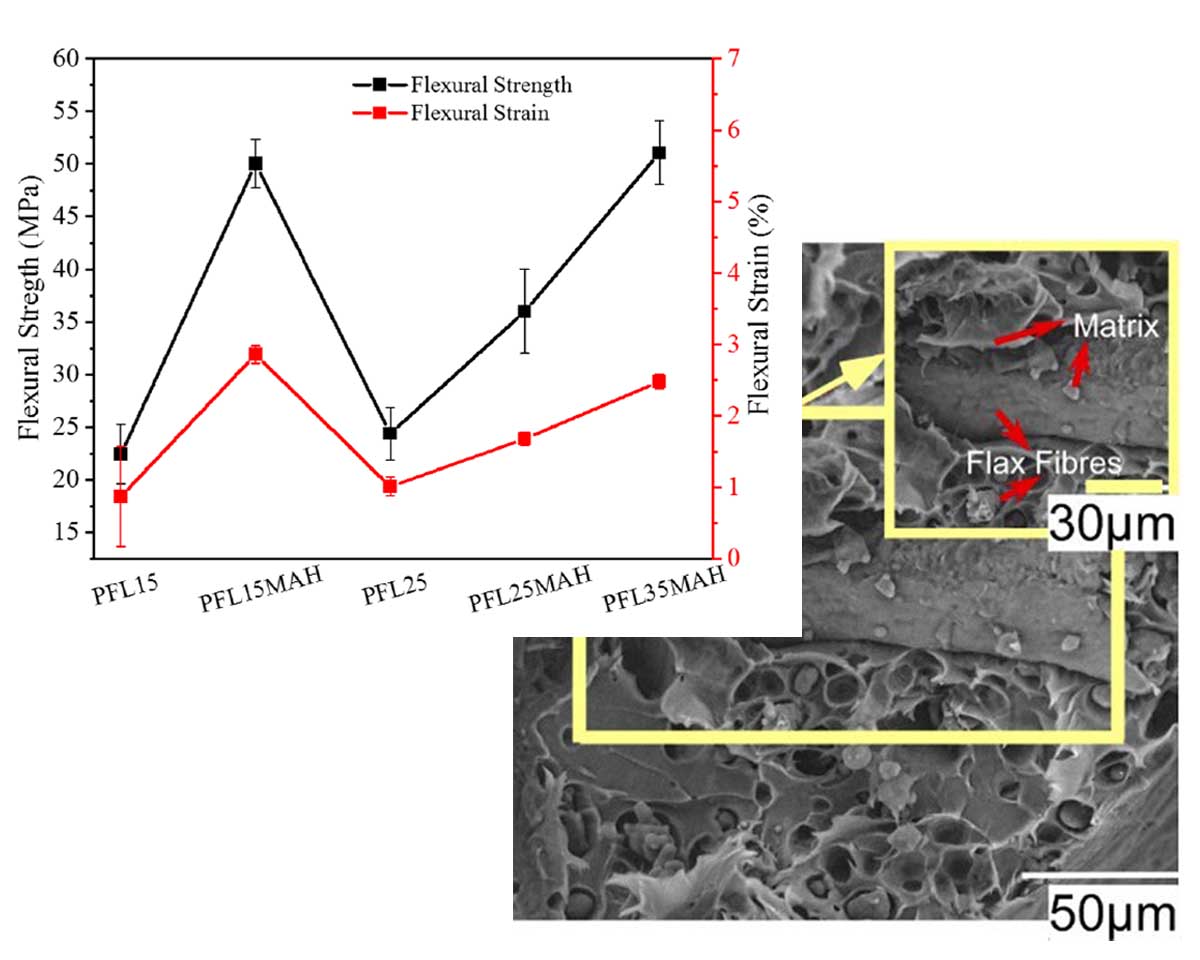 Submitted
2022-01-22
Published
2022-04-01
How to Cite
Avci, A., Akdogan Eker, A., Bakkal, M., & Bodur, M. S. (2022). Examination of water uptake performance and mechanical properties of PLA/flax fiber biocomposites with the coupling agent. Synthesis and Sintering, 2(2), 55-61. https://doi.org/10.53063/synsint.2022.22102
Copyright (c) 2022 Ali Avci, Aysegul Akdogan Eker, Mustafa Bakkal, Mehmet Safa Bodur
This work is licensed under a Creative Commons Attribution 4.0 International License.
Copyright
Authors are the copyright holders of their published papers in Synthesis and Sintering, which are simultaneously licensed under a Creative Commons Attribution 4.0 International License. The full details of the license are available at https://creativecommons.org/licenses/by/4.0/.
All papers published open access will be immediately and permanently free for everyone to read, download, copy, distribute, print, search, link to the full-text of papers, crawl them for indexing, pass them as data to software, or use them for any other lawful purpose without any registration obstacles or subscription fees.