Experimental investigation and parameter optimization of Cr2O3 atmospheric plasma spray nanocoatings
Seyedmahdi Hashemi

Dynamic and Smart Systems Laboratory, Mechanical Industrial and Manufacturing Engineering Department, University of Toledo, OH 43606, USA

Nader Parvin

Department of Materials and Metallurgical Engineering, Amirkabir University of Technology, Tehran, Iran

Zia Valefi

Materials Engineering Research Center, Malek Ashtar University of Technology, Tehran, Iran

Soroush Parvizi

Materials Engineering Department, Shahid Rajaee Teacher Training University (SRTTU), Tehran, Iran
Abstract
In this research, Cr2O3 ceramic nano-sized powder particles were prepared using ball milling and then were granulated to reach the proper size for spraying. Afterward, Cr2O3 nano-coatings were deposited by atmospheric plasma spraying (APS) process onto stainless steel substrates. To optimize APS parameters, spraying was carried out under six conditions with different parameters. Microstructures of the elemental/milled powder and coatings were characterized via a field emission scanning electron microscope (FESEM) equipped with energy-dispersive spectroscopy (EDS). In this research, Cr2O3 coatings were deposited under different spraying conditions to understand the effect of APS parameters on the splat formation, deposition efficiency, and porosities of the coatings. After parameter optimization, spraying was performed under a high deposition efficiency of 46.0±1.3%. The optimized Cr2O3 coatings showed porosity content, Knoop microhardness, and adhesive strengths of 8.7±2.2%, 823±27 HK0.2, and 49±4 MPa, respectively; making them a good candidate for industrial use.
Downloads
Download data is not yet available.
Keywords:
Cr2O3, Ball milling, Nano, Atmospheric plasma spray, APS parameter optimization, Ceramic coating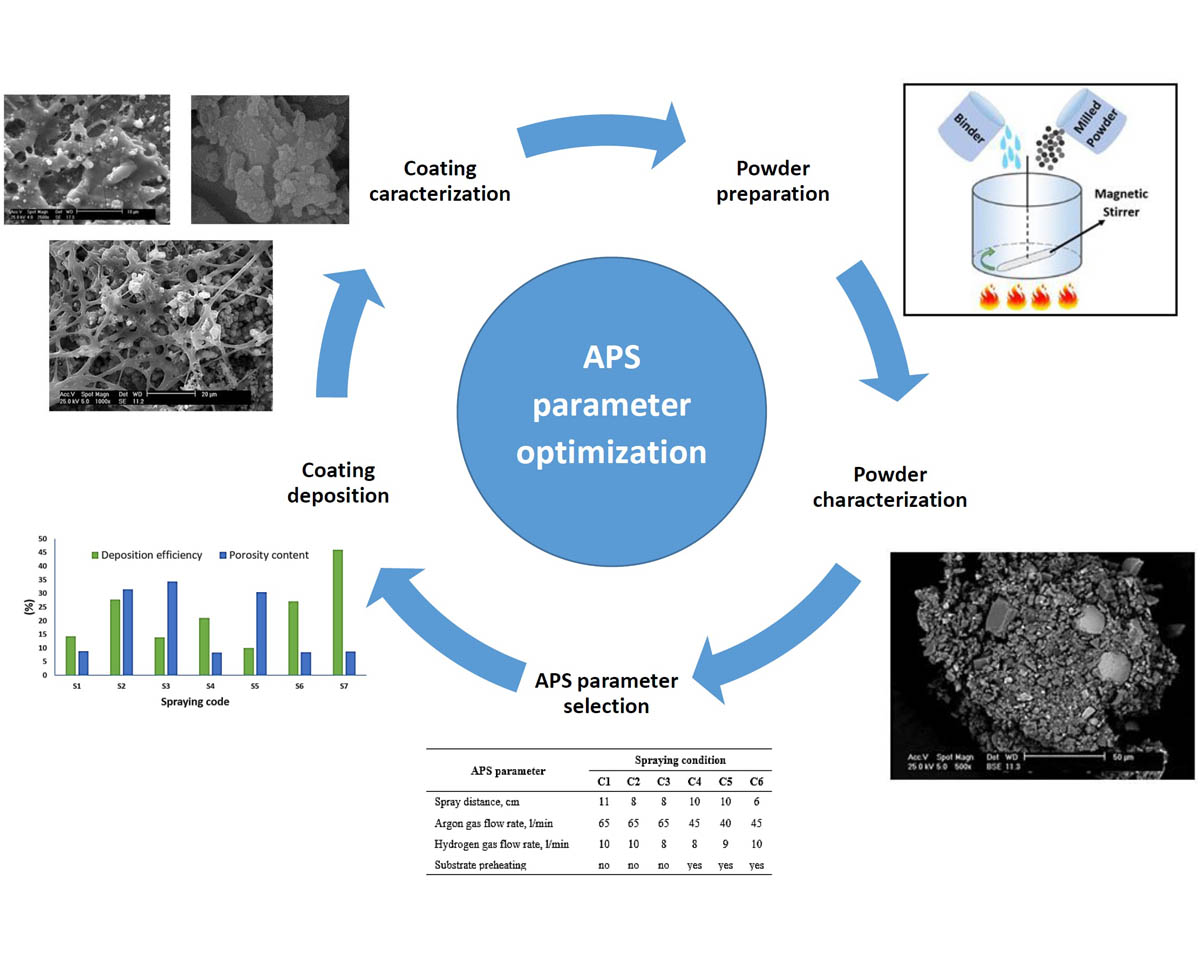 Submitted
2021-06-30
Published
2021-09-19
How to Cite
Hashemi, S., Parvin, N., Valefi, Z., & Parvizi, S. (2021). Experimental investigation and parameter optimization of Cr2O3 atmospheric plasma spray nanocoatings. Synthesis and Sintering, 1(3), 143-150. https://doi.org/10.53063/synsint.2021.1339
Copyright (c) 2021 Seyedmahdi Hashemi, Nader Parvin, Zia Valefi, Soroush Parvizi
This work is licensed under a Creative Commons Attribution 4.0 International License.
Copyright
Permission of the Publisher is required for distribution outside the institution and for all other derivative works, including compilations and translations. If excerpts from other copyrighted works are included, the author(s) must obtain written permission from the copyright owners and credit the source(s) in the article.
*Author rights
As an author, you (or your employer or institution) have certain rights to reuse your work.